Description
Description
Our Turntable Weights
*SPECIAL OFFER: FREE Anti-Static Carbon Fibre Stylus Brush RRP: £8.95
*Limited Time Only, while stocks last.
Many modern vinyl records can be thin, flexible and as a result, warped or bowed. As most records are not perfectly flat on the turntable platter, sound reproduction may suffer due to unwanted resonances.  Warped records tend to contact the platter at the outer edge only. As a result, Anti-Skating may be less effective and record wear is thus increased. The AudioZomba Turntable Record Weights bring the record into intimate contact with the platter and thus delivers sound improvements whether warped or not! The Clamp firmly tightens down on the record evenly, minimising vibration due to improved contact between the vinyl and the Platter.
Our Clamp features :  Black Polymer coated metal Michell Type Turntable Weights with anodised bright alloy knurled Grip.
Note:
The spindle requires 7.5mm of untapered spindle protruding above the record. Please Note that it is not suitable for threaded spindles.
This Clamp is not suitable for a Michell Orbe, Rega threaded spindle, or one with a shorter spindle than 7.5mm.
Our Record Clamp comes complete with a Smart Black Leatherette Presentation Case for safe storage.
See also our machined Alloy Record Weights
More Info
Reviews (0)
Returns & Delivery
We offer a No-Quibble 30 -Day Return & Refund on all our Products. Please refer to our Return & Refund Policy for full details.
We aim to ship next Working Day by your chosen Postal Service. See our Shipping Policy for further details.
dfushjdfs
Related Products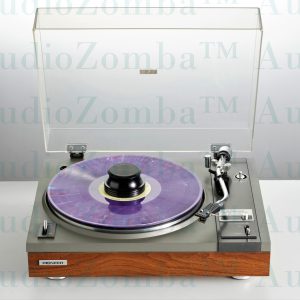 Quick View
*SPECIAL OFFER: FREE Anti-Static Carbon Fibre Stylus Brush RRP: £8.95 *Limited Time while stocks last Our weight optimised Stabiliser comes in an attractive presentation case and is designed to simply sit over the turntable spindle to keep your vinyl flat and level during playback, improving stability. Available in metallic silver and silk black. An Ideal gift for the discerning audiophile!