How to Choose the Right Vinyl LP Record Sleeves
How to Choose the Right Vinyl LP Record Sleeves
Choosing inner and outer vinyl LP record sleeves is crucial if you want to keep your discs safe from dust, grease, scratches and scuffs. They protect the vinyl album jacket, too. The inner sleeves prevent the record from freely rolling inside the jacket and ripping the seams. When placed on racks, jackets may slide on the surface or onto other jackets, causing friction that can damage the jacket design. You can avoid that with the use of outer sleeves.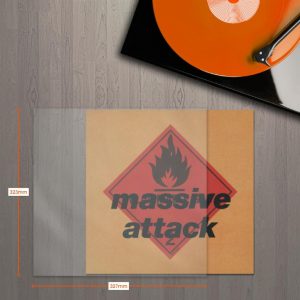 Inner and outer vinyl sleeves aren't made equal, though. So before buying them online, here are some tips to help you purchase record protector sleeves that are best for your collection. 
Learn about the different kinds of inner vinyl sleeves.
Several types of inner vinyl records are available on the market. Each offers a certain level of protection capability, cost and ease of use, so it pays to explore each before buying.
Generic paper inner sleeves
Paper inner sleeves are one of the most affordable options. They're plain white papers with cutouts that allow you to view the label easily. They're good as temporary protection, but they're not recommended for long-term use as they tend to tear and turn yellow over time.
But even as temporary protection, make sure to look for paper inner sleeves free of acid and alkaline. It's also good to get the heavyweight kind of paper inner sleeves.
Poly inner record sleeves
Poly LP record sleeves are durable and hold their shape when you slide a record in, making them a great choice for disc conservation. They don't have cutouts, as you can see the record label through their translucent material. Without a cutout, they reduce access for dirt and microscopic dust particles to sneak their way onto your precious disc. 
Most poly inner sleeves have a square shape, but some have rounded corners. Rounded sleeves are incredible as they make it easier to return the record to the album jacket. 
Paper with poly-lined inner record sleeves
These vinyl LP record sleeves are a combination of the first two types. Their outer part is paper that gives the sleeve's shape, while the inner part is polypropylene, which helps minimise the friction when you insert the disc. The only downside to these sleeves is that they're often thicker than other types. They can be difficult to insert into tight album jackets.
Audiophile inner record sleeves
Audiophile inner record sleeves are made from rice paper or high-density, anti-static polyethylene (HDPE). They're smooth both inside and out, allowing easy insertion of vinyl records. They're ultra-thin; they don't have a cut-out since you can see the label from outside.
These sleeves may be more costly than others, but they have an archival quality that makes them suitable for long-term vinyl storage. They're a reliable option for true audiophiles.
Look for thickness in outer vinyl LP record sleeves.
Most outer sleeves for vinyl records are made from plastic polyethylene. They're often clear for smart presentation, and they may come in 12-inch or seven-inch sizes to fit any vinyl LP disc. Keep in mind that thickness is a vital factor when buying outer protector sleeves. Make sure to pick outer sleeves that are thick and durable enough to protect the beautiful artwork on the record cover from scratches and scuffs that may accumulate over time. 
Consider these when buying either inner or outer sleeves.
Whether you're planning to purchase inner or outer sleeves, consider the following factors:
Thickness

: Sleeves vary in thickness. For outer sleeves, thickness is key. But for inner sleeves, thickness doesn't always mean quality. As mentioned, sleeves with archival quality are ultra-thin, reducing friction and removing the need for a cut-out. 
Inside space

: Some album jackets have tight inside spaces. So when buying an inner sleeve, don't forget to consider inside space when weighing your options. Keep in mind that it's not good news if there's too much friction whenever you have to put your vinyl record into the jacket. 
Durability

: Make sure to only purchase from trusted brands to ensure durability. For instance, here at AudioZomba, we only offer inner & outer sleeves from SpinCare. 
For optimal protection of your vinyl record collection, feel free to browse through our selection of inner and outer vinyl LP record sleeves. Again, they're from SpinCare. They have excellent durability and top quality, making them a great choice for true audiophiles. 
Want more tips on how to care for your vinyl records? Don't hesitate to check out our blog. You can also contact us through phone or email if you have further concerns or enquiries.
AudioZomba.com
Comments are closed