We sell a Range of  Vacuum Tube Accessories.
We sell Vacuum Tube Dampers and Pin Contact Spray to improve your Vacuum Tube performance. Our Range is expanding so do check back from time to time for useful accessories.
Our Tube Dampers are British Made to BS Standards and are therefore flexible and Heat Resistant.
Because of their flexibility, they come in sizes to suit most pre-amp vacuum tubes.
All Double Triode Tube designs suffer from microphony (ringing of the glass envelope. This impacts overall sound quality. Our Silicon Tube Dampers absorb vibrations, thus cleaning the sound quality up. This results in deeper and tighter bass, open mid-range & sweet clear treble.
We recommend 2 tube damper rings per Vacuum Tube. For fitting, see picture. Ultimately, it is trial and error.
Please contact us for size guidance where required.
Showing the single result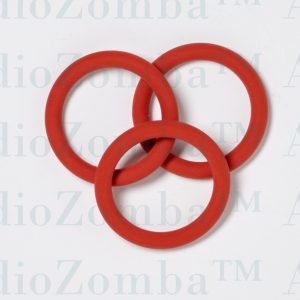 Quick View
Most Pre-amplifier valves inherently suffer to some degree with Microphony or valve 'ringing' due to resonance interactions with the glass envelope.
These silicone anti-vibration rings effectively reduce or even eliminate microphony.
Scroll down for Detailed Product Description
Showing the single result