A Comprehensive Range of Vinyl Record Cleaning Products which are made in-house to Laboratory Standards. We employ the finest Lab Grade Ingredients available thus ensuring Audiophile Quality.
Our highly regarded  Shimmer Vinyl Record Cleaner is available in many sizes. Available in Spray dispenser to Bulk Plastic Jerries, it can be used for manual or Bulk Applications. Due to its expert formulation it is suitable for all Vacuum Record Cleaning Machines!
As experts in Vinyl Record Care, we also provide a Wide Range of vinyl record brushes, vinyl Record Cleaning Cloths and Stylus Care Kits.
Browse our Shop for many Bargains!
Showing 1–12 of 15 results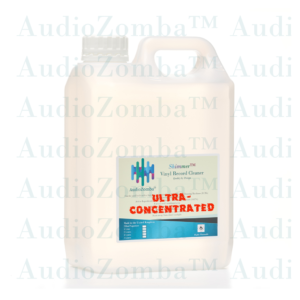 Quick View
Summary:
Laboratory Grade Professional Vinyl Record Cleaner suitable for both Manual Cleaning and all Record Cleaning Vacuum Machines
1Litre Size in Tamper-Proof Plastic Jerry makes 5 Litres of Ready - to -Use Fluid saving you ££££££s!!
High Purity Groove-Seeking Formula with Built-in Drying Agent gives exceptional Results
Audiophile Quality by AudioZomba
Scroll down for detailed Product Description:
Showing 1–12 of 15 results