New Lease of Life!
Hi
A couple of weeks back I had a few records cleaned by you. It's took me a while to get back to you but I thought I would send you my thoughts.
Firstly, the service was first class, good communication and rapid turnaround.
Then visually the records were perfect, no dust or fingerprints and an impressive sheen to the vinyl.
Sound quality was an interesting experience. The usual clicks and pops were greatly reduced. The noisiest record I sent, which was on my list to replace, is now more of a borderline case. I will still look for a replacement but the urgency has gone. The other albums are now very quiet mostly almost silent.
I was expecting a reduction in noise, but what has surprised me has been the huge improvement in sound quality. All the records I sent you are ones that I have listened to many, many times. I know them exceptionally well. These records have been given a new lease of life. They are more dynamic with a more stable and larger soundstage but details have been uncovered that I have either not heard before or they have gradually just faded away. One example, one track, the first track I played, there was a tambourine sounding with each beat of a cymbal that I have not heard before and it was blindingly obvious.
I could go on, but I won't. Suffice to say I am thrilled with the improvement in my records and would not hesitate to use your service again.
Many thanks
Tony Cowdrill.
Tony Cowdrill
Transformational!!
'Hi Phil,
Just writing to say thank you for the amazing cleaning of my LPs.  I dare to say totally transformational.  Couldn't believe my ears.
Next batch being prepared to be sent to you towards end of June.
Have a nice weekend.
Rgs,
Nicholas' (email received 01/4/2023)
AudioZomba Record Clamp – Great for Townshend Elite Rock II
Used this clamp with great success on LP12.
Tried it in place of the original, clear Townshend clamp with the small size brass knob.
Fit's perfectly, looks great, sounds way, way better and larger diameter knob is much easier and safer to use.
Especially relevant for Rock owners as this clamp can be used without any spindle extension bolt, often req'd by other clamp designs.
Excellent product which I often recommend to others.
Euan Wotherspoon
Excellent throughout
I came to see Phil with and old collection that was handed down. Some didn't sound too great and a friend recommended Phil's cleaning service. They had been well looked after but needed a clean to enhance the listening experience. I wasn't disappointed. I his workshop, Phil took the time to explain the cleaning process and the care that would be taken to ensure a good result. As a complete vinyl notice, Phil was more than happy to give some guidance as to how to care for the collection and some of the 'dos and dont's'.
Overall I'm delighted with the results. Phil has breathed new life into the vinyl. Most if the pops and crackles have now gone and they sounds great. I can't fault the service at all and I will be back.
Chris Vincent
Schiit Valhalla 2 NOS Upgrade Kit
I ordered the complete NOS tube kit for my Valhalla 2 headphone amp, with the premium 6N1P tubes. The tubes have about 50 hours of burn in now, and they sound excellent. There's been no noise or microphonics, just pure sonic goodness! Order processing and shipping was quick, and the tubes took only approximately 10 days to arrive in Seattle, even with sitting in Customs for 3 days! Thank you, cheers.
Jonathan
Rare Vintage Reflektor 6N1P-v c.1966/1967
Firstly I didn't expect the parcel to arrive so quickly, but in less than two weeks it arrived in Australia. Don't let first impressions dissapoint you, these tubes need some time to burn in. When I first installed them they were quite noisy with an audiable hum, now…. absolutely quiet. This is the elite matched rare 6N1P Military variant from the 1960s to early 1970s known as 6N1P-v by Former Voskhod & Reflektor Plants. I was already impressed by the Itube Fatman with stock Chinese 6N1 tubes, but with this upgrade it's quite extrodinary! this is after 20 hours of burn in time. Its hard to describe but very imersive and enjoyable with incredible detail and warmth. Well worth while in my opinion, if you're reading this and thinking about upgrading, I can highly recomend getting them. Thank you Audio Zomba!
Robert Kirchner
Genuine email from Drop In Customer, Dec 2021
'Hi Phil,
I can't imagine that there is a service that is more thorough than what you provide. In a way that is the reassuring part, that everything has been done that can be done. My consignment was in a way a tough challenge because the records were in reasonable shape and had already been cleaned. The results were bound to be less dramatic. That said, I have noticed that the sound has lifted on most of them.
I have now listed 16 and 6 of those I am now comfortable in improving the grade to VG+ after your clean. The cackles have reduced significantly. The Neil Young is now NM. That leaves 9 which will remain VG, probably because of groove wear. Even those, however, will be easier to sell accompanied by a more positive write up on the listing. There is also less risk of a disappointed customer.
I'm happy with the results and I shall write a positive review, and will be back.
Cheers,
Roger'
Benchmark Service, Skill & Knowledge
Just had my entire record collection professionally cleaned by Phil. From the moment I contacted Phil the quality of customer service was excellent. The results post the cleaning process are more than worth the cost. My records have never sounded better. Proper customer focused service coupled with pride and skill in providing a service.
Simon
Reliable and Trustworthy
Some of the cleaning and flattening made a huge improvement. There were two records I sent that I thought I would have a hard time time listening to again but it's dramatically changed them. The service was excellent throughout.
Chris
Record Cleaning
Phil is always polite and professional! Just received my first batch of records back from being cleaned and I will certainly be sending some more in soon! Records sound and look great, and for the price I would recommend this service for any vinyl users!
Graeme
Terrific!
Phil has transformed my boxed set of Beethoven's piano concertos – all the crackles and pops have virtually disappeared and the LPs are now a pleasure to listen to.
Thank you!
Dipankar Ghosh
Don't bother looking elsewhere….
I would like to add my recommendation to the many others who have experienced the service offered here..
I took over 50 discs to Phil for cleaning. Whilst I have not had an opportunity to listen to them all, I have played both the oldest, newest and a couple that were very much, "used". Without exception, they are all noticeably quieter and performing better now prior to cleaning.
I have used other cleaning services, all more pricey than the prices here and I can say without contradiction that this is the best.
Phil's passion and professionalism combined with the custom made equipment and cleaning solutions utilised are top notch.
I'll definitely be back!
Many thanks
David Phillis
Vinyl upgrade
I had several records that, due to their poor condition, were sounding flat and the surface noise was distracting. I came across the Audiozomba website and thought I would see how these records clean up. After Phil's handywork they look great, but more importantly there is a significant improvement in the sound quality – similar to upgrading your system, you want to listen to the records again to appreciate the difference. Now I'm looking through my collection to identify another batch for cleaning.
Dan Goodwin
Highly recommended.
A terrific and very efficient service. The records came back to me looking and sounding like new. Five stars!
BeatBooks.com
Excellent service – the best way to get the sonic sparkle back to ruined records
Recently I discovered that the LPs in my collection in appalling condition; i.e. mostly unplayable as they had suffered badly from being stored in a damp environment. There were visible patches of mould, mildew and other contamination on the surface of the discs. In fact they were so badly deteriorated that the stylus of the record player wasn't even able to stay in the grooves, it kept jumping and skipping across the surface.
Phil at Audiozomba carried out his 6-stage cleaning service and the results were amazing. After undergoing this treatment most of the records were literally transformed into nearly new condition!
I highly recommend this service to anyone as it's very reasonably priced given the rewarding results to my old records; I was on the verge of chucking them all in the bin and trying to buy replacements so this has definitely save me a lot of time & money.
Tim Milton
Ultrasonic Stylus Cleaner
Wow. I've been brushing my AT Microline stylus religiously after every album – and occasionally dabbing it on a gel pad for the more stubborn gunk. Having said that, I thought I would give this ultrasonic cleaner a go – and after spending a couple of minutes to make sure I got it right, gave my stylus a clean. The amount of treble definition that I suddenly heard on the next album I played was frankly a revelation, I guess you don't know what you've lost until you get it back, right? Super easy to use, this is highly recommended!
James Hendry
An excellent service
I used AudioZomba to professionally clean around 160 discs. These were a combination of LPs and 12″ singles, many of which hadn't been played for years. I was delighted with the results – the cleaning process really brought these discs back to life. The whole process was rapid and efficient.
Linda Arch
Records re-incarnated 😃
Got my records out of the loft after 15 years, decided to get them cleaned so took 10 to Phil to see how they came out. Ended up taking 1,400 records to him. Best thing I done and really happy with all my records professionally cleaned. Got new outer sleeves where necessary and Phil gave every record back in a new anti-static rounded poly inner sleeve so the entire collection is restored. Genuinely can not recommend doing this enough. I found Phil to take great pride in his work and his work ethic is faultless. You can see he loves vinyl and this seems more of a hobby for him. Great guy and great service. My nostalgia is at 100%. Thank you personally from me Phil, it does mean a lot to me so thanks.
Dave waugh
Lesson Learnt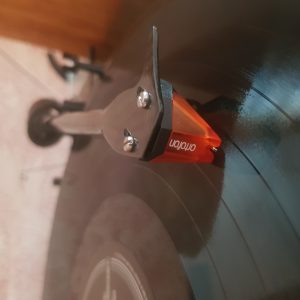 I had previously tried to clean my records using a two stage process bought from Amazon which was awful and actually made my records worse.
Having spoken to Phil at AudioZomba I decided to entrust my records to his care and comprehensive cleaning service and am absolutely delighted with the results.
The music does sound better but it's actually what you don't hear which is most noticeable in that those annoying pops, clicks and crackles I would hear have gone.
The run-in groove and track separations are now just so quiet, in all honesty my records have never sounded so good and would liken their sound to a modest upgrade.
For me it's now a real pleasure to sit back and fully enjoy my music and record collection.
I would also recommend AudioZomba's Dust Magnet which is so simple to use and gives me total piece of mind knowing that now both my records and stylus are performing at their best.
Paul Gooderham
Excellent Service
'Hi Phil
Thanks for dispatching so quickly. Valves are in use in a pair of active speakers. They are made in China and had cheap Chinese valves for the output. I've just had them recapped with high quality caps and the Russian military valves have upgraded the sound even further. They're actually near field monitors and for the first time they sound as they should. I'm amazed. Very happy with the valves and cost versus level of upgrade.
Thank you very much.
Andi F, Yeovil