Description
Description
Speaker Isolation Pads – Set of Eight Anti Vibration Feet
Bookshelf Speakers, despite their name, are not good on bookshelves. Most Audiophiles will stand-mount them to eliminate unwanted vibrations. In a nutshell, the bookshelf becomes 'one' with the speaker resulting in one big messy resonating lack of definition and clarity.
But often it is not practical to place your smaller speakers on stands, and that's where our Anti Vibration Speaker Isolation Pads come to the aid! They are a brilliant innovative solution and effectively minimise resonances across the frequency spectrum resulting in a cleaner sound, deeper bass and improved stereo imagery.
Set of Eight finest high density Portuguese Cork & mineral felt acoustic speaker isolation pads. Simply place the speaker on the plain cork face. They can also improve Stand-mount set ups.
Non-Scratch Smooth finish – kind to your components and furniture! Also pictured – our Speaker Isolation Cone Feet
50 x 50mm Portuguese cork/mineral felt tiles
Many applications – AV/Stereo: Amp, Pre-Amp, CD Player, Turntable, speakers – can be used instead of spikes
Cork/EDPM Rubber sandwich developed to Improve acoustics and effectively dissipate stray vibrations
More Info
Returns & Delivery
We offer a No-Quibble 30 -Day Return & Refund on all our Products. Please refer to our Return & Refund Policy for full details.
We aim to ship next Working Day by your chosen Postal Service. See our Shipping Policy for further details.
dfushjdfs
Related Products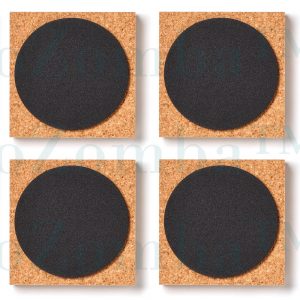 Quick View
This set of four ISOLATION PADS has been designed and manufactured by AudioZomba.
to improve the overall dynamics of a wide range of components by efficiently near eliminating vibration throughout the Hi-FI Chain.