Our Unique Professional 6-Stage Vinyl Record Cleaning Service.
Tel: 07368813756      info@audiozomba.com
REMOVE WARPS with our Professional Vinyl Record Flattening Service see HERE
Introduction: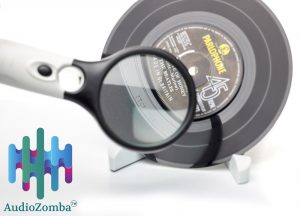 Listening to your vinyl records transports you back in time to relive memories that are linked to the tunes you are playing. You do not, therefore, want your enjoyment to be spoilt by poor quality sound emanating from your record player. To avoid this, use our vinyl record cleaning service and enjoy flawless music once more.
Why have your vinyl records professionally cleaned?
Vinyl records have static that attracts dust and other particles in the air, such as cigarette smoke, and can accumulate dirt caused by greasy fingerprints, mould, and mildew. Without cleaning this dirt away, you not only risk scratching the surfaces but can also damage the stylus.
Having your vinyl records professionally cleaned removes any in-ground dirt and prolongs their life. The quality of sound is improved exponentially, and you may even benefit from an increase in the value.
Our comprehensive cleaning services.
At AudioZomba, we offer a unique professional record cleaning service for just £2 per disc that is carried out in six stages. Including both vacuum and ultrasonic treatment, our comprehensive record cleaning service is extremely thorough. We understand that different types of soiling need varying cleaning approaches, so we adopt this dual system to ensure exceptional results.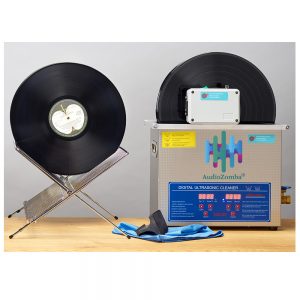 We begin by pre-cleaning your vinyl record with a microfibre cloth before submerging it into an ultrasonic bath containing our unique laboratory solution. Afterwards, the playing surface is scrubbed and vacuumed. The fourth step deep cleans the surfaces, removing cleaning residues that may affect the stylus. This is followed by drying your vinyl record then completing an anti-static removal process. We then place your pristine disc in a BRAND NEW Spincare Anti-Static Sleeve completely free of charge.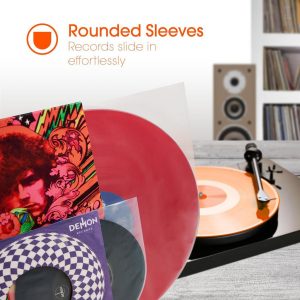 We can even remove most warps! Find out more about our Vinyl Flattening Service HERE
*How to use our vinyl record cleaning service.
*NOTE – for cleaning only, a Minimum Flat Fee for 1 –6 Discs applies. Flattening only is charged per single disc.
Scroll Down further for our Current Price Guide
We offer a local drop off/collection service or a postal service for the UK Mainland. If you live locally, simply book an appointment and benefit from our easy drop off and collection service. To use the UK Mainland postal service, submit your details via our enquiry form and follow our shipping recommendations to ensure secure delivery. Provide as many details in the 'Special Instructions' section:
Typical Examples:      'I would like 10 discs cleaned, one of them needs flattening. Also please return the inner sleeves'
 'I have 6 discs for cleaning only, please quote for both fully insured and standard return shipping'
 'I have 1 disc only for Professional Flattening, please quote'  etc., etc.
Tel: 07368813756  with any questions
or  just email us at info@audiozomba.com. We are here to help!

REMOVE WARPS with our Professional Vinyl Record Flattening Service – Find out more HERE
Cleaning/Warp Removal Enquiry
*IMPORTANT NOTE – £50 Basic Insurance cover included. We will Quote optional cover up to £2,500 for higher declared total value. Customer is fully responsible for level of cover chosen to and from our premises.
Vinyl Records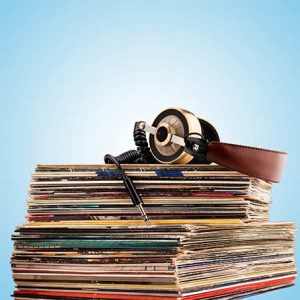 Prices:
Current Prices 1st July 2021.
Professional Record Cleaning Services:
Drop Off/Collect by Customer  at Hertford SG13 8JW.
1 -6 Discs –   £12 (minimum Flat Fee)
7+ Discs – £2 per disc
Vinyl Record de-Warp™ Professional disc Flattening Service:
£9.95 per Disc (Terms & Conditions Apply)
Postal Service (UK Mainland & Europe)
*Return Shipping will be quoted based on weight and estimated value. For value over £50 we will quote optional insured services. The choice of  risk and liability lies solely with the customer.
The customer is fully responsible for safe and insured shipping to us.
These are example prices only. For a bespoke quote for 50 or more please contact us using the contact form and we will respond with a tailored quote (usually within 48 hours).
Our Unique 6-Stage Process
1
Pre Cleaning
We carry out a pre-cleaning stage. The disc is wiped with our dry groove-seeking micro-fibre cloth. This cloth is specially cosen for reaching deep into the groove and good adherence. It removes any loose surface dust and debris, thus preparing it for the wet clean. For heavily soiled discs, we may also blow with compressed air if deemed necessary in order to remove loose dirt and debris.
2
Soaking & Loosening
We submerge the vinyl into our ultra-sonic bath using our own special laboratory solution. This cycle takes 20 mins (20 x 1 min revolutions) at 27°C. Our solution is a mixture of highly purified Bio-ethanol, 6 x steam distilled water and a quality surfactant. We optimise our solutions for each specific task! All our cleaning fluids are manufactured in-house to Laboratory Standards.
3
Scrub & Vacuum
We scrub the playing surface on a Moth RCM using both forward and reverse controls in order to soften up of any residues deep within the micro-grooves. We use our own Shimmer Professional Vinyl Cleaning Solution and our specially sourced natural fibre scrubbing brush. Both are excellent products and are available in our shop for those that own an RCM and clean at home.
4
Record Purification
Following cleaning we deep clean the vinyl surfaces with 6-times steam distilled water using a Stand-alone Ultra-Sonic Cleaner. This final stage serves to remove any cleaning residues that may interact with the stylus or help accumulate further debris.
Your Record is now pristine and ready to be dried off and subsequent anti static treatment.
5
Drying
Following the final vacuuming stage, all discs are left to dry briefly in a drying rack. This stage is critical: If the record is not left to dry long enough it will be returned to its sleeve damp and thus a risk of mildew or further attraction of contaminants. Conversely, if it is left it may attract further dust from the atmosphere.
We check at regular intervals and sleeve up promptly.
6
Anti-Static Removal
We treat each disc with a few shots from our Zerostat anti-static gun which near eliminates any subsequent dust attraction. It is then placed into a brand-new complimentary Spincare Premium Rounded anti-static record inner sleeve.
Being completely static free & non-abrasive, they protect your record!
How to Purchase and Make Payment:
For local Drop Off/ Pick Up Customers, please ring or email for appointment. Payment can be made by Cash, Contactless, *PayPal or BACS Transfer.
For Postal Customers, Please use the 'Record Cleaning Enquiry' Contact Form above to confirm your full name & Address details, including a contactable telephone number.
Include how many records you are sending, and please specify if you wish to pay by Bank Transfer or PayPal.
(*Please provide your PayPal linked email address. Fee applies).
We will confirm your order within one working day (usually same day if before 3.00pm).
Terms & Conditions
Dropping Off / Picking Up Service
Our service is available by appointment only. Please adhere to the agreed Drop Off / Pick Up time. In adverse circumstances, please ring us and let us know if late or cancelled. Drop Off Pick Up times are usually during Office Hours 8.30am – 4pm Mon – Fri.
Shipping Your Vinyl to Us:
We recommend that you use a fully insured service in order to ensure secure delivery. The package must be sound and substantial enough to withstand the journey both to and from our premises. We recommend a new or fully intact double walled carton plus suitable inner support because this will minimise movement during transit.
If a package is received in poor condition, we reserve the right to charge for the supply of return packaging. We thouroughly photograph all parcels upon receipt and prior to returning to the customer. AudioZomba™ strongly recommends that you send your discs via a secure tracked delivery service. We cannot be held liable for records that go missing or are damaged in transit. The Buyer is responsible for sending the records securely via a tracked/Signed For service.
Please provide us with your address details upon purchase. A contactable telephone number and tracking info is required. We will provide you with our workshop address upon cleared payment. Our quoted price includes return postage to your UK Mainland delivery address.
Returning Your Vinyl Records by Post:
Our record cleaning service takes 2 – 5 days turnaround time. We will aim for the quickest turnaround at all times. Smaller batches are often quickest. Please provide a secure UK Mainland based address. We will ship your records using Royal Mail 2nd Class Signed For Service. We use Parcelforce 48 for larger consignments. All packages are photographed in detail upon receipt here at AudioZomba and also prior to sealing and return. Your discs are fully insured and full tracking details will be sent to you via email upon dispatch. Where items are damaged or lost in the post, our proof of posting completes our obligation. The Buyer is responsible for progressing a claim against the Postal Courier. We will supply photography showing the condition of the package as it was received by us and prior to return dispatch.
Details:
Our record cleaning service takes 2 – 3 days turnaround time.
Our price is for restoring a batch of discs both sides, so please note that double album counts as 2 discs. You may send an odd amount (minimum of 5) but we charge per complete batch. So, if you have, for instance 16 LPs you will be charged for 20 LPs.
Note: The service is for 12″ LPs only at the time of writing.
Regrettably, 10″ discs, singles and shellac 78s present technical problems and are currently nonviable.
The Promise:
We believe our processes are the most comprehensive service available and so we therefore Promise to do our best to restore your lovely vinyl. However, some records may have surface noise caused by manufacturing defects. Where poor handling, cuing or other trauma has occurred it may not be possible to reverse such damage. Subsequently, while we endeavour restore your vinyl, we cannot always guarantee improvements. Although the cleaning process will remove dust and debris, we cannot rectify damage caused by scratches or worn groove . Our charge is for one cleaning cycle of both sides of ONE disc. Should we deem further cleaning necessary, we may contact you to discuss how you wish to proceed.