Our Unique Professional 6-Stage Vinyl Record Cleaning Service.
Tel: 07368813756      info@audiozomba.com
Introduction:
Professional Record Cleaning Service – Best in UK
Local Drop Off/Collect for Hertfordshire or World Wide Postal Service
Exceptional Results & Great Prices
From *£1.75 Per Disc & FREE Inner Sleeves, Outer Sleeves also Available
*Flood/Other Damage/Insurance Claims No Problem. Contact us for a Specialist Quote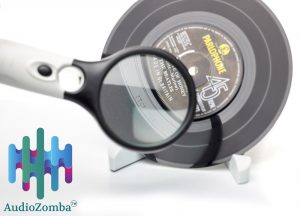 Listening to your vinyl records transports you back in time to relive memories that are linked to the tunes you are playing. You do not, therefore, want your enjoyment to be spoilt by poor quality sound emanating from your record player. To avoid this, use our vinyl record cleaning service and enjoy flawless music once more.
Why have your vinyl records professionally cleaned?
Vinyl records have static that attracts dust and other particles in the air, such as cigarette smoke, and can accumulate dirt caused by greasy fingerprints, mould, and mildew. Without cleaning this dirt away, you not only risk scratching the surfaces but can also damage the stylus.
Having your vinyl records professionally cleaned removes any in-ground dirt and prolongs their life. The quality of sound is improved exponentially, and you may even benefit from an increase in the value. We also now offer highly specialised cleaning for Acetate master records and the old Shellac 10″ 78s. Just enquire!
Our comprehensive cleaning services.
At AudioZomba, we offer a unique professional record cleaning service from just *£1.75 per disc (*7″ singles; LPs/12″ Singles @ just £2) for vinyl that is carried out in six stages. Including both vacuum and ultrasonic treatment, our comprehensive record cleaning service is extremely thorough. We understand that different types of soiling need varying cleaning approaches, so we adopt this dual system to ensure exceptional results.
We begin by pre-cleaning your vinyl record with a microfibre cloth before submerging it into an ultrasonic bath containing our unique laboratory solution. Afterwards, the playing surface is scrubbed and vacuumed. The fourth step deep cleans the surfaces, removing cleaning residues that may affect the stylus. This is followed by drying your vinyl record then completing an anti-static removal process. We then place your pristine disc in a BRAND NEW Spincare Anti-Static Sleeve completely free of charge.
Our Unique 6-Stage Process
1
Pre Cleaning
We carry out a pre-cleaning stage. The disc is wiped with our dry groove-seeking micro-fibre cloth. This cloth is specially cosen for reaching deep into the groove and good adherence. It removes any loose surface dust and debris, thus preparing it for the wet clean. For heavily soiled discs, we may also blow with compressed air if deemed necessary in order to remove loose dirt and debris.
2
Soaking & Loosening
We submerge the vinyl into our ultra-sonic bath using our own special laboratory solution. This cycle takes 20 mins (20 x 1 min revolutions) at 27°C. Our solution is a mixture of highly purified Bio-ethanol, 6 x steam distilled water and a quality surfactant. We optimise our solutions for each specific task! All our cleaning fluids are manufactured in-house to Laboratory Standards.
3
Scrub & Vacuum
We scrub the playing surface on a Moth RCM using both forward and reverse controls in order to soften up of any residues deep within the micro-grooves. We use our own Shimmer Professional Vinyl Cleaning Solution and our specially sourced natural fibre scrubbing brush. Both are excellent products and are available in our shop for those that own an RCM and clean at home.
4
Record Purification
Following cleaning we deep clean the vinyl surfaces with 6-times steam distilled water using a Stand-alone Ultra-Sonic Cleaner. This final stage serves to remove any cleaning residues that may interact with the stylus or help accumulate further debris.
Your Record is now pristine and ready to be dried off and subsequent anti static treatment.
5
Drying
Following the final vacuuming stage, all discs are left to dry briefly in a drying rack. This stage is critical: If the record is not left to dry long enough it will be returned to its sleeve damp and thus a risk of mildew or further attraction of contaminants. Conversely, if it is left it may attract further dust from the atmosphere.
We check at regular intervals and sleeve up promptly.
6
Anti-Static Removal
We treat each disc with a few shots from our Zerostat anti-static gun which near eliminates any subsequent dust attraction. It is then placed into a brand-new complimentary Spincare Premium Rounded anti-static record inner sleeve.
Being completely static free & non-abrasive, they protect your record!
Get an Instant Estimate & 24hr Quote!