Description
Description
50 Clarity 7″ Super Clear Resealable Outer Vinyl Sleeves
Summary:
Outer Vinyl Sleeves are Completely sealed to prevent dust intrusion
Re-sealable Pouch – excellent wear & tear protection
Super Clear Record Sleeves for Smart Presentation
Acid-Free – made from high quality BOPP
AudioZomba's Audiophile Choice!
AudioZomba™ is a fully Authorised Spincare Distributor based in the UK
Product Description:
Don't compromise presentation for protection. Achieve both with our Super clear protective outer vinyl sleeves for your 7" Singles.
Completely sealed to prevent any intrusion of dust / debris into your record sleeves and vinyl records.
Resealable pouch with adhesive on the sleeve rather the flap for easy removal of records to play, and reinsertion when you have finished playback.
Sleeves measure 18.3cm x 17cm with a 3.8cm flap which folds over the main body of the sleeve.
Includes 50 Spin Care® 7" Clarity sleeves
Our Clarity record sleeves offer immaculate presentation of your vinyl records, whilst protecting them from any wear and tear;
Features & Benefits:
Sealed – Our clarity sleeves are physically sealed when in use – just like when you buy a new record. This is the most effective way of avoiding any dust or debris getting into your record sleeve and keeping your record and jacket in pristine condition.
Presentation – Super clear record sleeves. Even old worn sleeves are given a brand new lease of life in these sleeves with a shiny, smart finish.
Resealable – Adhesive is on the main body of the sleeves, and not the flap. This avoids the risk of your record coming into contact with the adhesive.
Adhesive – The adhesive used can be used again and again.
Acid Free – Many vinyl enthusiasts have learnt the hard way what can happen if they choose the wrong product, such as PVC, to protect their vinyl. Our sleeves are 100% acid-free and are made from high quality BOPP.
More Info
Returns & Delivery
We offer a No-Quibble 30 -Day Return & Refund on all our Products. Please refer to our Return & Refund Policy for full details.
We aim to ship next Working Day by your chosen Postal Service. See our Shipping Policy for further details.
dfushjdfs
Our offers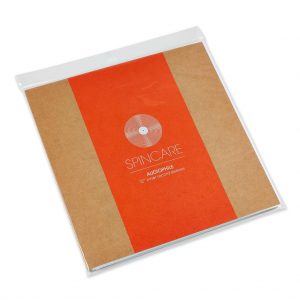 Quick View
Summary:
Anti-Static, Anti-Dust, Anti-Scratch Record Inner Sleeves
Archival Quality Replacement for dusty paper sleeves
Smooth to the touch - soft slide will not bunch
Residue Free - Excellent Quality & Value for Money
Audiophile Quality by AudioZomba
Scroll down for Detailed Product Description
Summary:
Anti-Static, Anti-Dust, Anti-Scratch Sleeves
Affordable Replacement for dusty paper sleeves
Smooth to the touch - soft slide will not bunch
Residue Free - Excellent Quality & Value for Money
Audiophile Quality by AudioZomba
Scroll down for Detailed Product Description