Record Clamps
Record Clamps & Record Weights – Do they Work?
Buy great Record Clamps & Weights here!
 Any Audiophile reading this article will be aware that many factors can affect our quality of musical reproduction. The stability of the vinyl record on the turntable platter is of key importance. There are many Record Weights and Record Clamps available on the market. They can improve overall perception of playback sound quality. Tightening of frequencies across the spectrum, amelioration or elimination of resonances have all been reported.
Improvements in sound quality can be found in playing vinyl records that have mild to moderate warping. The additional weight (or in the case of our Michell Style Clamps, force) applied to the record centre can visibly reduce distortion caused by unstable undulations when revolving.
Record Weights: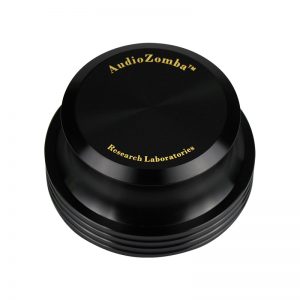 Our Record Stabiliser Weights help to damp records that have mild warps and for such vinyl records will improve bass response. Additionally, tighter mid-range and sweeter more detailed treble response can be obtained. Their research optimised weight of just over 475 grams means they are light enough to avoid stress on the Turntable motor. Despite this, they are beefy enough to provide sonic benefits. They are manufactured from Precision machined Alloy and have a Protective felt base to protect the vinyl record label.
Record Clamps: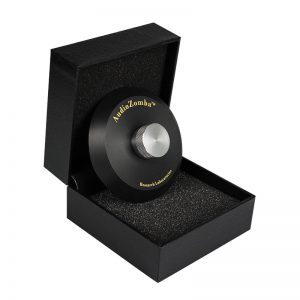 Our Michell Style Record Clamps are a different design concept to record stabiliser weights, because they apply downward force to both the record and the turntable spindle. Thus, they can be much lighter in weight and do not apply unwanted additional weight to the platter. The Michell Engineering Style clamp applies downward force by simply tightening the aluminium knob. This is done in a clockwise motion around the turntable spindle with one's fingers. The Michell Engineering style clamp is made a thermoplastic coated steel for strength and durability. It also features a bright silver anodised knurled knob. Because it is relatively light, it is suited to more delicate Turntable suspension systems and more pronounced record warps.
Record Weights and Record Clamps can help improve sound for both flat and warped records. However it is important to note that they cannot compensate fully for badly warped records.
Thanks for reading our blog and please feel free to come in our shop and browse or Buy great Record Clamps & Weights here! Any questions, we are always here to assist! email: [email protected] or give us a ring on 01992 732 269. We are here to help!
Comments are closed