Record Weights
Vinyl Record Weights – Worth investing?
Browse Record Weights and Record Clamps here!
 There much debate on whether record weights and clamps offer any benefit with respect to vinyl Record Playback.
For newcomers to this area, there are essentially two types of record weights. Some are pucks that simply weights that sit over the spindle applying passive pressure, and others are clamps that grip the spindle and lock down onto the vinyl record.
The Problem explained:
During vinyl audio playback, tiny vibrations are created due to the stylus tracking the micro-groove. Such vibrations are picked up, resulting in a spurious signal. However, most records are not actually dead flat, so the damping effect of the coupling via platter/platter mat alone is never 100% and some vibrations will become audible. The intent of a record clamp or weight is to rigidly couple the disc to the platter or mat, enabling vibrations to be efficiently transferred thus maximizing the damping effect offered by the platter and mat.
Why Record Weights and Clamps are worth considering:
We at AudioZomba believe there are some significant benefits to be had by making this affordable upgrade. We list them below:
Applying pressure to flatten: Very few records are literally flat. Warps tend to make it more difficult for the stylus to track correctly. Indeed, where records are slightly warped, centre-weighting may keep them flatter and improve trackability. This is not, however remedial for vinyl records that are badly warped.
Damping Vibration: The stylus vibrates as it tracks your record grooves – The vibrations are converted into tiny electrical signals that are then transposed into glorious analogue sound. Some vibration, however, inevitably gets transferred onto the disc, and when this occurs, it impacts the stylus's ability to track the groove correctly and accurately. By firmly coupling the vinyl to your platter, extraneous vibrations are minimised resulting in an improved audio performance.
They can look aesthetically awesome!!
The two main Record Weight categories and their relative Pro's and Con's

Record Stabiliser Weights:
Can help to damp records that have mild warps and for such vinyl records will improve bass response, in addition to tighter mid-range and sweeter more detailed treble response. Although in theory the heavier the force the better, they must be light enough to avoid bottoming out on soft suspension systems. i.e. some Turntables such as some Linn and Thorens models. Too much weight could also risk damaging the turntable's bearings. Research optimised weights can be beneficial for many turntables including those with firmer suspension
Michell Style Record Clamps: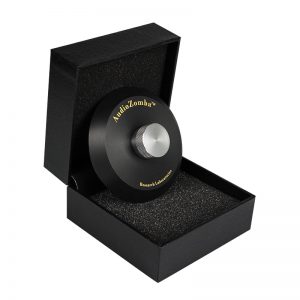 These are a different design concept to record stabiliser weights because they apply downward force to both the record and the turntable spindle. Thus, they can be much lighter in weight and do not apply unwanted additional weight to the platter. The Michell Engineering Style clamp applies downward force by simply tightening the aluminium knob in a clockwise motion around the turntable spindle with one's fingers. Because it is relatively light, it is suited to non-sprung or more delicate Turntable suspension systems and more pronounced record warps.
Whilst both Record Weights and Record Clamps can help improve sound for both flat and warped records, it is important to note that they cannot compensate fully for badly warped records.
Thanks for reading our blog and please feel free to come in our shop and browse our great Vinyl Weight Stabiliser Range. Any questions, we are always here to assist!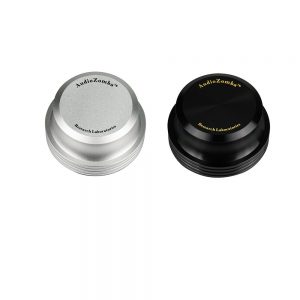 Buy Record Weights and Record Clamps here!
Thanks for reading our blog. If you have any questions or comments, please message or phone us on 01992 732 269. We are here to help!
Comments are closed