Description
Description
7″ DENSITY Polythene Plastic Outer Record Sleeves 50 Pack
Summary:
Outer Record Sleeves make a Snug fit for all 7″ Record Covers
Helps to protect from UV damage
The safest protection for your record collection
Manufactured in the UK
AudioZomba's Audiophile Choice!
DENSITY 12 Inch 400g Polythene Outer Record Sleeves – Fits 1-4 12″ Gatefold Vinyl LPs (Pack of 50) Description
AudioZomba™ is a fully authorised Spincare Distributor based in the UK
Description: 
Our Density 7″ polythene record sleeves are a safe, affordable and durable way of protecting your record sleeves from wear, tear, dust and debris, as well as UV damage from the sun. Our sleeves will not stick to your sleeves, or cause "misting" on your records, which seriously degrades sound quality on playback. It has been suggested this issue is the result of the Petrol-based PVC sleeves interacting with the record, which is also manufactured from PVC (Poly Vinyl Chloride!). They are thick and strong, yet surprisingly supple when compared with PVC sleeves.
We have tested these sleeves in both 7″ & 12″ formats and they are good for single LPs, single gatefold, double gatefolds, and even a triple gatefold at a push. Quite simply, they are the best long-term outer protection for your record collection. For best results combine with our HDPE inner record sleeves for the ultimate long-term protection. Please note that these sleeves are manufactured from polythene, which has a slightly frosted appearance. If you are looking for a super clear sleeve, please see our Spin Care clarity record sleeves which offer immaculate presentation of your vinyl record collection.
More Info
Returns & Delivery
We offer a No-Quibble 30 -Day Return & Refund on all our Products. Please refer to our Return & Refund Policy for full details.
We aim to ship next Working Day by your chosen Postal Service. See our Shipping Policy for further details.
dfushjdfs
Our offers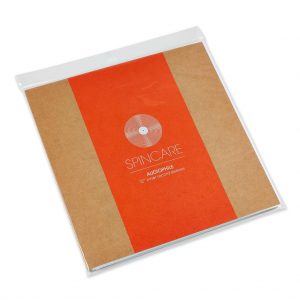 Quick View
Summary:
Anti-Static, Anti-Dust, Anti-Scratch Record Inner Sleeves
Archival Quality Replacement for dusty paper sleeves
Smooth to the touch - soft slide will not bunch
Residue Free - Excellent Quality & Value for Money
Audiophile Quality by AudioZomba
Scroll down for Detailed Product Description
Summary:
Anti-Static, Anti-Dust, Anti-Scratch Sleeves
Affordable Replacement for dusty paper sleeves
Smooth to the touch - soft slide will not bunch
Residue Free - Excellent Quality & Value for Money
Audiophile Quality by AudioZomba
Scroll down for Detailed Product Description