Description
Description
50 Clarity 12″ Super Clear Resealable Record outer sleeves
Summary:
Record outer sleeves are Completely sealed to prevent dust intrusion
Re-sealable Pouch – excellent wear & tear protection
Super Clear Record Sleeves for Smart Presentation
Acid-Free – made from high quality BOPP
AudioZomba's Audiophile Choice!
12″ Resealable Single LP / Slim Outer Vinyl Record Blakes Sleeves (Pack of 50) Description
AudioZomba™ is a fully Authorised Spincare Distributor based in the UK
Product Description:
Resealable outer record sleeves with re-useable adhesive strip
Super clear "Blakes sleeves" – the next generation in record protection and presentation!
Fits Single LPs. See other items for Gatefold sleeves.
Size – 32 x 31.5 x 3.6 cm
Pack of 50 sleeves
Our Clarity record sleeves offer immaculate presentation of your vinyl records, whilst protecting them from any wear and tear;
Features & Benefits:
Sealed – Our clarity sleeves are physically sealed when in use – just like when you buy a new record. This is the most effective way of avoiding any dust or debris getting into your record sleeve and keeping your record and jacket in pristine condition.
Presentation – Super clear record sleeves. Even old worn sleeves are given a brand new lease of life in these sleeves with a shiny, smart finish.
Resealable – Adhesive is on the main body of the sleeves, and not the flap. This avoids the risk of your record coming into contact with the adhesive.
Adhesive – The adhesive used can be used again and again.
Acid Free – Many vinyl enthusiasts have learnt the hard way what can happen if they choose the wrong product, such as PVC, to protect their vinyl. Our sleeves are 100% acid-free and are made from high quality BOPP.
Sizes – If you have mainly single LPs, buy Standard size. For Gatefolds / 2LPs buy Gatefold. The Gatefolds will also fit Single LP, but they will be slightly loose.
More Info
Returns & Delivery
We offer a No-Quibble 30 -Day Return & Refund on all our Products. Please refer to our Return & Refund Policy for full details.
We aim to ship next Working Day by your chosen Postal Service. See our Shipping Policy for further details.
dfushjdfs
Our offers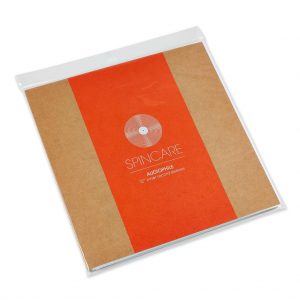 Quick View
Summary:
Anti-Static, Anti-Dust, Anti-Scratch Record Inner Sleeves
Archival Quality Replacement for dusty paper sleeves
Smooth to the touch - soft slide will not bunch
Residue Free - Excellent Quality & Value for Money
Audiophile Quality by AudioZomba
Scroll down for Detailed Product Description
Summary:
Anti-Static, Anti-Dust, Anti-Scratch Sleeves
Affordable Replacement for dusty paper sleeves
Smooth to the touch - soft slide will not bunch
Residue Free - Excellent Quality & Value for Money
Audiophile Quality by AudioZomba
Scroll down for Detailed Product Description