Record Cleaning Service
Record Cleaning Service – at AudioZomba

Introducing our new mail order on-line Vinyl Cleaning Machine Service for vinyl record lovers. Your vinyl records are cleaned professionally using our unique 6 stage process! They are returned to you with a brand new anti static inner sleeve! Because they are renovated, they will sound great, and thus provide you with pleasure!
Vinyl records purchased at car boot sales, for instance, may require extensive cleaning. Manual cleaning alone cannot generally achieve this. Due to the current renaissance of the vinyl medium, many records are emerging from garages, sheds and lofts across the country. These records can contain mildews, mould, ground in dust, cigarette smoke and other everyday elements,  therefore Professional Cleaning is critical!
What makes our Record Cleaning Service Unique?
At AudioZomba we believe in using a combination of record cleaning machines. Different types of contamination and wear require different cleaning approaches.
Most record cleaning services use a specific Vinyl Cleaning Machine, for example the Okki Nokki record cleaning machine, Loricraft record cleaning machine, project record cleaning machine. AudioZomba have invested in both the excellent Moth Record Cleaning Machine (vacuum based and widely considered to do the job best with superb reliability) and a timed ultrasonic record cleaner.
Our Unique 6 – Stage Cleaning Process:
1. The record is wiped with a vinyl micro-fibre cloth that removes loose dirt and debris.
2. The disc is submerged into our ultra-sonic bath in our own solution for 20 mins (20 x 1min revolutions) at 30DegC. Our solution is a mixture of Bio-ethanol, 6 x steam distilled water and photographic surfactant optimised for this specific task.
3. Following the softening up of any residues deep within the micro-grooves, we scrub the playing surface on a Moth RCM using both forward and reverse controls employing our own specially sourced natural fibre scrubbing brush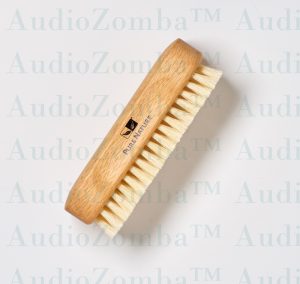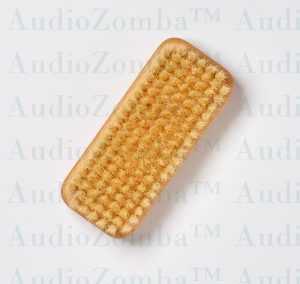 also available in our shop for those that own an RCM and clean at home.
4. The disc is wiped with distilled water using our mobile fidelity professional velvet brush removing any cleaning residues.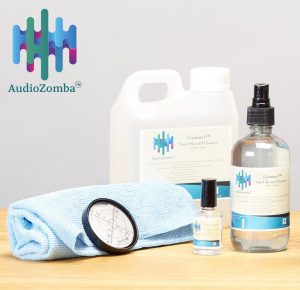 5. The disc is left to dry briefly in a drying rack.
6. The disc is treated with a few shots from our Zerostat anti-static gun to eliminate static and placed into a brand-new anti static record inner sleeve which is included in the service charge.
Note:
Due to the Moth having built in agitators that vibrate the vinyl brush bristles further loosening of stubborn deposits thus occurs. The record is flooded with  Shimmer isopropyl alcohol-based solution. Because we fit a  Professional Label protector, we avoid moisture damage. Following several cycles, the record is reversed and the dirty fluid is vacuumed into a dispensing tank. The Moth has such a high vacuum that we must use ear defenders! Although it is much louder than the Pro-ject due to stronger vacuum, the Moth does a far superior job as a result!
Our service is for minimum quantity of 5 discs. (Price is per disc therefore a double album counts as two etc). All records are returned via insured tracked service using professional record mailers with packing fillets for secure transit.
For full details and pricing please visit our Record Cleaning Service pages or email us : [email protected]. Tel: 01992 732 269. We are here to help!
Enjoy Your Vinyl!
Comments are closed