Record Brush
Record Brush – A Vital part of your Record Cleaning Kit!
Buy Quality Record Brushes here!
When cleaning vinyl records, no record cleaning kit is complete without a decent vinyl record brush. Indeed, it is preferable to keep a set of record brushes. Click here for our product range including many other turntable accessories.
But what is the best record brush?
There are many different types of brush on the market and each has its own merits:
Velvet record brush – good at removing light surface dust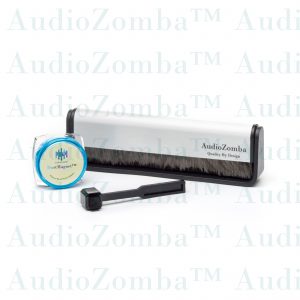 Carbon fibre record brush – removes light dust and dirt particles. Being an anti static record brush, it also reduces pops and crackles.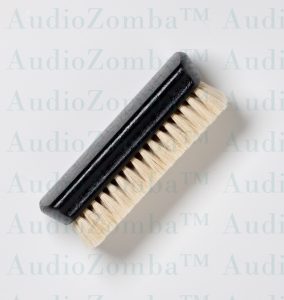 Record Cleaning Arm – these brushes sweep across the record just ahead of the playing track and has the advantage of catching dust generated by static during play.
Goat's Hair brush – these are excellent general-purpose brushes and are exceptional as a vinyl anti static brush. We recommend one for every vinyl record cleaner kit. Can be used wet or dry.
Mobile fidelity record cleaning kit – these are very high-quality brushes. We use these as part of our Record Cleaning Service. Excellent for wiping the record with distilled water following the record cleaning machine routine. They are a bit pricey, however but a good investment.
Brushes & Cleaners go hand in hand!
Of course, for every vinyl record cleaner kit, it is essential to have a good quality vinyl record cleaner. If, for instance, vinyl record is purchased second hand or has heavy deposits which affect sound quality, it will need a good wet clean.  We recommend an isopropyl alcohol-based record cleaner.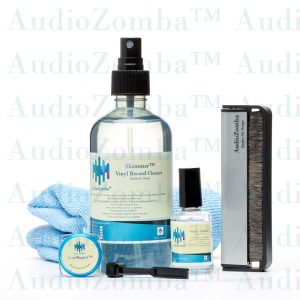 However, the thing to remember when using a vinyl record brush regularly is that it a quick brush before playing and replacing the record in an anti-static sleeve after use will keep the record clean and sounding great for much longer.
This in turn extends both the life of your vinyl record and your record player stylus. Indeed, deposits that are picked up by the record player cartridge onto the stylus needle degrade the stylus tip over time and could cost you dearly.
Invest in a few decent record brushes and you will be rewarded with improved sound quality and save money longer term too!
Buy Quality Record Brushes here! Any questions or comments please email us at [email protected] or Tel: 01992 732 269. We are here to help!
Comments are closed