cleaning vinyl records
Do alcohol based Vinyl Record Cleaners damage vinyl records?
Buy Professional Vinyl Record Cleaner & Stylus Cleaners here
One question often asked is regarding how to clean vinyl records. Namely: Does alcohol damage vinyl records? In our opinion, the answer is essentially no. There are many articles on how to clean vinyl records with soap and water or cleaning vinyl records with vinegar. Even how to clean vinyl records with Windex (Windolene to us Europeans). However, the most common vinyl record cleaners based on Isopropyl alcohol (IPA) seem to be under fire!
In terms of restoring vinyl records, the reason why most record cleaning solutions are IPA based is because made correctly, it works very well indeed. Our Range of Professional Vinyl Cleaners & Stylus Cleaners do just that!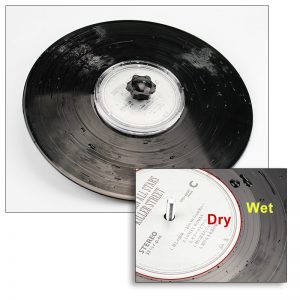 IPA Based Vinyl Records Cleaners damage Vinyl? – Where is the Evidence?
What scientific evidence is there to support the theory that IPA based Vinyl Record Cleaners can damage vinyl records?
Firstly, it is worth pointing out that many neat alcohols have been supplied for many years in polyvinyl chloride containers (PVC) otherwise referred to as VINYL . This is the substance that our much-loved records are made of!
It is well documented that the widely used Polyethylene terephthalate (PET Bottles) can leach if either highly concentrated or neat alcohols are stored in them for prolonged periods, but PETs are, in fact, polythene based.
The Science
It is well understood that PVC is almost completely insoluble in neat ethanol or isopropanol. Vinyl is also virtually totally insoluble in diluted alcohols. However, prolonged submersion may cause crazing or stiffening due to slow leaching over a period of many months, probably years. Most Vinyl Record Cleaners are 20 – 30% IPA diluted with distilled water and

a non-ionic surfactant. Typically, the record only contacts the diluted alcohol for a minute or so prior to evaporating.
High Purity Alcohol does not leave a residue and therefore there is no prolonged contact with the vinyl surface. Even in the case of a record cleaning machine (RCM). the record is seldom immersed for a significant time. Furthermore, it is common practice to rinse with distilled water before returning it to its sleeve.
See our Unique Record Cleaning Service Procedure for your peace of mind.
Where crazing occurs over many years, the surface of the vinyl would crack and the black colourant in the vinyl would start to discolour. It is worth noting that records are manufactured from clear PVC with a black colour pigment added during manufacture.
We have never in 35 years of vinyl experience seen a record with this quite distinctive kind of damage.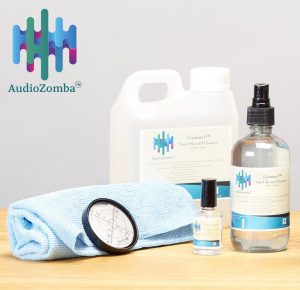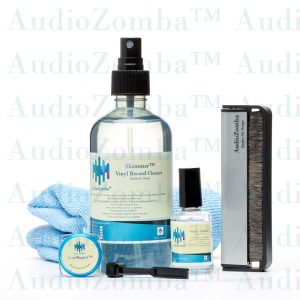 Buy with Confidence
In our opinion, a quality alcohol-based Laboratory Grade vinyl record cleaner is the best way of cleaning vinyl records. It seems that fears have been generated across web forums. Social media myth and gossip doesn't help. Scientific data are often mis-interpreted. Until we are provided with credible scientific evidence that such products are harmful, we will continue to sell our product range and bulk Vinyl Record Cleaners with confidence.
Buy Professional Vinyl Record Cleaner & Stylus Cleaners here. Any questions just email us at [email protected] or Tel: 01992 732 269
Comments are closed