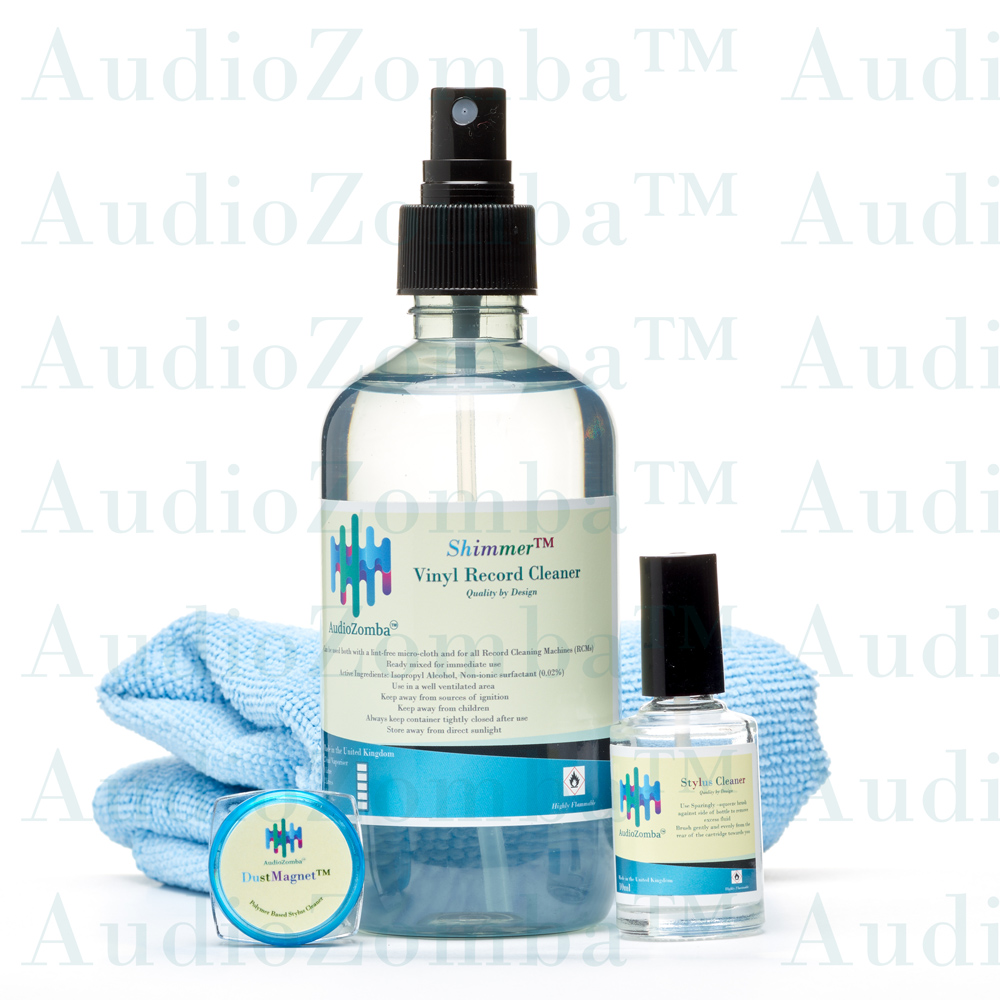 vinyl record cleaning kit
Choosing a Vinyl Record Cleaning Kit
Buy Vinyl Record Cleaners & Stylus Cleaner Products easily  here
Choosing the right Vinyl Record Cleaning Kit can be a bewildering process with so many available on the market. Its all due to the resurgence of the vinyl recording medium! You need to preserve your precious vinyl and at the same time protect your turntable tonearm, cartridge & stylus. Thus, choosing the right Stylus cleaning kit could be one of the most important decisions you make, especially if you have a large vinyl record collection!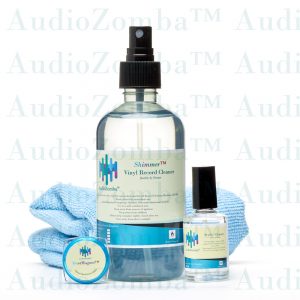 Quality First
Here at AudioZomba we believe in quality first. The best vinyl cleaning kit for manual cleaning will contain a record cleaning solution and stylus cleaner. They consist of high purity laboratory grade ingredients. Equally important is a good quality microfibre record cleaning cloth.
In addition, a decent anti-static record brush and stylus brush are vital. A decent stylus cleaning brush can add hundreds of hours of life to your stylus. At the same time it protects your precious vinyl records from damage and deterioration.
Our Product Range
Some basic knowledge on how to clean vinyl records and how to clean stylus is easily obtained. With practice you will improve your technique in no time.
At AudioZomba we sell a complete range of record cleaning accessories from individual products to complete comprehensive cleaning kits. Our high purity Shimmer record cleaner comes in both a 250ml handy vaporizer and bulk 1l,2l & 4L Jerries. They are suitable for RCM Record Cleaning Machines and manual cleaning of very large collections. We offer a range of record brushes including our carbon fibre record brush and our luxurious DustGoat a very generous Goat's hair vinyl record brush that can be used wet or dry!
For stylus cleaning we offer an antistatic carbon fibre stylus brush at a great price and our revolutionary DustMagnet a polymer-based dust attracting stylus pad that works extremely well and was developed by us here in AudioZomba Research Laboratories. Used after every spin it drastically reduces build-up of contamination on the stylus tip.
Our Unique Record Cleaning Service
We are now proud to offer a rather unique record cleaning service here at AudioZomba! A record cleaning machine is the best way to clean your records ultimately, but the downside is they are very expensive and different types of RCM have different pro's and con's. The best possible cleaning system would need to have both the vacuum extraction based cleaner and the ultrasonic type cleaner.

Here at AudioZomba we have just that! We can clean your records using our unique 6 step cleaning system and return them to you in a brand new Nagoaka type anti-static sleeve for a very reasonable price. If you have a rare collection that needs deep cleaning, then look at our record cleaning service. It is probably the best service of its type in the UK.
Buy Vinyl Record Cleaners & Stylus Cleaner Products easily  here  or any questions, contact us at [email protected]  Tel: 01992 732 269
Happy cleaning and Enjoy your Vinyl!
Comments are closed