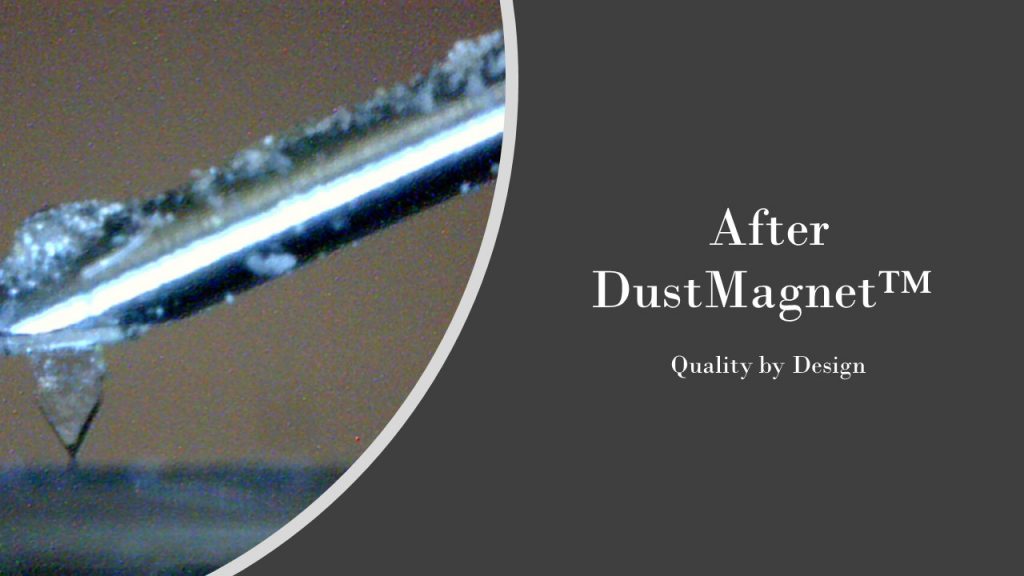 How to clean a Stylus
How to clean a Stylus – A simple Guide
Buy Professional Stylus Cleaning Kits here
Before we start, the first and foremost key to maintaining a clean stylus is cleaning records regularly with a quality vinyl record cleaning solution! Our post titled 'How to clean records' provides some tips and advice.
Records transfer dust and grime onto the stylus which in turn degrades sound quality. Cleaning stylus is of little use therefore if you drop it onto dirty vinyl records. Don't play a record unless it is spotlessly clean.
Look after Your Stylus!
A clean stylus needle improves sound quality, lengthen the life of your stylus and in turn, extends vinyl shelf life.
However, just a handful of simple routine maintenance practices can provide excellent results and save a lot of unnecessary expenses.
The photos below show the stark differences between a heavily contaminated stylus and a properly cleaned one. Imagine what that does to your playback sound quality!
Inspect the stylus needle regularly using suitable magnification such as our 45X stylus magnifier. Upon careful examination of the stylus, the shape of the needle should be convex or elliptical depending on type purchased and it should appear smooth surfaced and translucent. If the tip is flat or even concave, it will require immediate replacement.
Build up of any dirt, grease or other deposits must be removed using a range of methods and products. Stylus inspection should be a regular routine. We have a comprehensive range of stylus care products in our shop.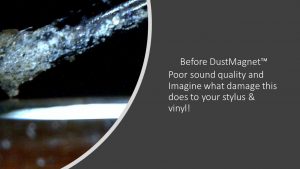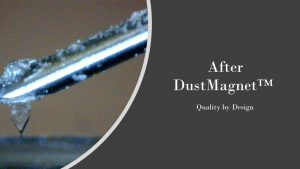 Regular Maintenance is Key!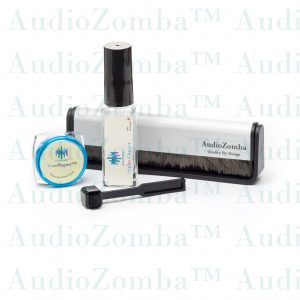 People frequently ask:
What is the best way to clean a stylus?
How often should I clean my record stylus?

Is it OK to clean my stylus with alcohol?
Our Recommendations:
1. Use our DustMagnet™ Stylus Polymer every time before playing a vinyl record. The tacky polymer will remove loose dust and mild deposits thus keeping maintenance at a minimum. It is very effective, costs much less than the market leader, and is rechargeable so it will last for years.
2. Use a carbon fibre stylus brush regularly. Always brush gently from rear towards yourself. This is particularly good for
reducing static which in turn attracts more dust.
3. Where excessive build up has occurred as observed under magnification, use a quality stylus cleaner fluid. Most cleaners contain Isopropyl Alcohol (IPA) because it does the job very well.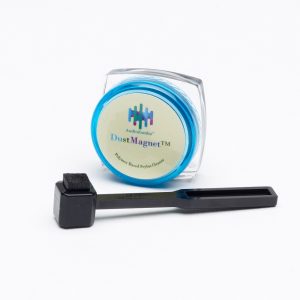 Alcohol can damage some stylus/cantilever set ups due to gradual breakdown of the bonding agent ethyl 2-cyanoacrylate known as superglue. We therefore recommend that you use it occasionally and sparingly. Squeeze excess fluid from the brush onto the side of the bottle before applying gently from the rear of the stylus towards you. We also provide a unique 2-Stage alcohol-free stylus cleaning kit.
So, they key is regular inspection, regular cleaning, and MOST OF ALL a spotlessly clean record collection!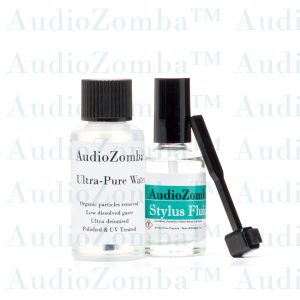 Buy Professional Stylus Cleaning Kits here. Any questions? email us at [email protected] or Tel: 01992 732 269. We are here to help!
Enjoy your vinyl!
Comments are closed