Speaker Isolation Feet
HiFi Isolation Feet & Bookshelf Speaker Isolation Pads
Buy Professional anti Vibration Isolation Feet here
Although your HiFi equipment may be housed in a purpose-built equipment stand, most amplifiers, CD Players, pre-amplifiers etc can be further improved. This achieved by adding isolation pads or cones such as our Bookshelf Speaker Isolation Pads. Turntable isolation feet, in particular, tend to afford further protection against extraneous vibrations and electrical interference. Vibration has a generally negative impact on sound quality. Advances in material science have produced combinations that minimise migration of unwanted vibrations into audio systems. Vibrations build exponentially as physical (mechanical) waves. Indeed, some materials employed as points of contact between the say, amplifier and HiFi stand can conduct vibrations to a greater extent than others. Our Cork/EDPM Sandwich Vibra-Sorb isolation pads utilise material combinations that absorb and damp extraneous mechanical waves.
Bookshelf Speaker Isolation Pads:
Our Bookshelf Speaker Isolation Pads are designed to add an extra layer of isolation between the speaker and the stand or shelf. The 50 x 50mm pads are made from selected Portuguese smooth cork and EDPM Rubber to reduce vibration absorption.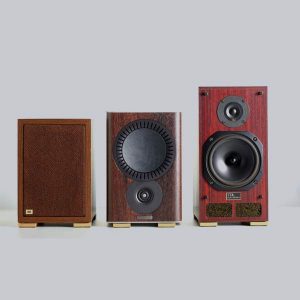 Our isolator pads perform better than sorbothane alone. In our opinion are the best speaker isolation platforms in value for money terms! Although many loudspeakers are named 'bookshelf' speakers, most HiFi enthusiasts will stand-mount them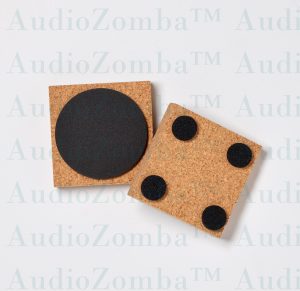 because the sound improvements can be vast. This is because when you place a speaker on a shelf it couples with it and they become one. It also causes greying and muddiness across the sound spectrum. For many domestic situations, however, it is not always practical to set up speakers on stands.
The answer? Our isolation feet effectively decouple the shelf from the speaker greatly improving overall clarity. You can expect tighter deeper bass, open lucid midrange and sweet accurate treble response together with a natural acoustic. Our pads will not only improve the bookshelf situation, they also further improve stand-mounts! Simply place the existing feet of your amplifier/CD Player/Streamer etc onto the EDPM Rubber disc so that the 4 smaller rubber discs are underneath.
Hi-Fi Cone Isolation feet:
Our Vibra-Sorb Cone Isolation feet can also be used as part of a HiFi Isolation Platform. They make great amplifier isolation feet and can make drastic improvements as a turntable isolation platform.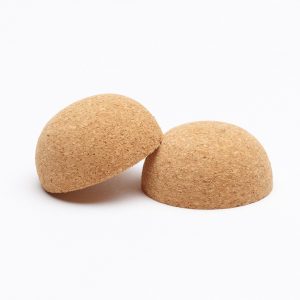 They work particularly well with Bookshelf Speakers. Effective decoupling of the speakers from the shelf results in cleaner sound. Available in quantities of 4 or 8 with free UK delivery.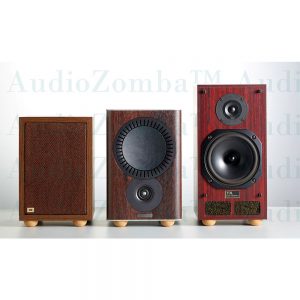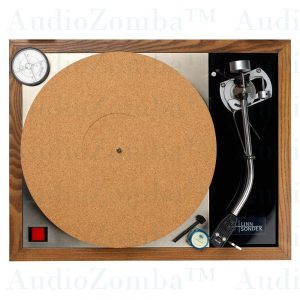 Also available – our Range of Finest Cork Turntable Mats. They reduce vibration and improve the sound of your Vinyl Records!
Buy Professional anti Vibration Isolation Feet here. Any questions? Comments? email: [email protected] or Tel: 01992 732 269.
We are here to help!
Thanks for reading!
Comments are closed