Description
Description
AudioZomba Ultra-Concentrated Vacuum RCM Vinyl Record Cleaning Fluid
Shimmer rcm record cleaning fluid – Concentrated Deep Vinyl Record Cleaning1 Litre Bulk Professional Concentrated Vinyl Record Cleaner for Cloth or Vacuum Type Record Cleaning Machines (RCM). Just add Distilled Water!
AudioZomba™ Shimmer™ – Advanced Vinyl Cleaner For Record Cleaning Machines. Makes 5 Litres!
Also Available – Super-Concentrated Vinyl Record Cleaner for Ultra-Sonic Baths
An absolute must for the discerning audiophile. Our advanced Professional Vinyl Restoration Solution is formulated for Vacuum Record Cleaning Machines (RCMs).
Vinyl record cleaning is often debated amongst vinyl collectors. Benefits include extending vinyl life, enhanced audio quality, and extended Stylus Life. Because thorough record cleaning removes foreign matter, it thus drastically reduces audible noise. When cleaning large numbers of records, therefore, bulk Record Cleaners can be highly cost effective. Contamination can be extremely bad for your records and stylus. In fact, ground in dirt can damage your vinyl which in turn can ruin a record's sound quality.
For owners of Record Cleaning Machines, then using the best Vinyl Cleaning Solution is critical. Because Record Cleaner purity is essential, it follows that a laboratory Grade cleaner will get the best out of your RCM. Shimmer penetrates deep and thus affords you have complete peace of mind. Use with our Record Label Protector for superb results!
Shimmer rcm record cleaning fluid – Concentrated Deep Vinyl Record Cleaning: Perfect For Vacuum Record Cleaning Machines:
Our Vinyl Record Cleaner is developed using pharma skills and lab Grade ingredients. It reaches the record micro-grooves to dislodge dirt and debris. Formulated for all modern RCMs, it is therefore an economical, wise choice for the audiophile. Due to a built-in surfactant, our fluid goes deep into the micro-grooves, and thus reaches the deepest dirt and debris. Accordingly, due to massive surface area, your vinyl record dries faster, which in turn, near eliminates further dust build-up.
Shimmer Features:
High Purity IPA (>99.9%)
6 -Stage steam distilled lab grade water
Non-Ionic Photo-Grade Surfactant
Built in wetting /drying agent gets into the groove and rapid drying means returning to the sleeve before dust settles again!
Full Instructions included for optimal results.
You can expect first class results every time!
More Info
Returns & Delivery
We offer a No-Quibble 30 -Day Return & Refund on all our Products. Please refer to our Return & Refund Policy for full details.
We aim to ship next Working Day by your chosen Postal Service. See our Shipping Policy for further details.
dfushjdfs
Our offers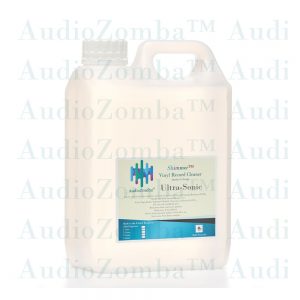 Quick View
Summary:
Laboratory Grade Professional Ultra-Sonic Vinyl Record Cleaner in Bulk Sizes
Powerful deep reaching formula removes Fingerprints, ground in dust, tar, Mould & Mildew, Fibres, cigarette smoke residues etc. with ease
Only Product of its Type on the Market specifically Researched & Optimised for Ultra-Sonic cleaning of Vinyl Records
Unique Low Volatility formulation means Safe in Use plus Deep Cleaning Action
Ready to Use High Purity Groove-Seeking Formula with Built-in Wetting Agent gives exceptional Sparkling Results every time
Re-Usable formula means you can filter and save ££££s!!
Full Comprehensive Instructions and Safety Data included.
Scroll down for Detailed Product Description