Description
Description
Carbon Fibre Anti Static Record Cleaning Brush 
Our Carbon Fibre Record Cleaning Brush effectively removes dust and debris. Such contaminants can attract to the record grooves due to static electricity.
Playing uncleaned vinyl records can degrade your turntable stylus due to unwanted static pops and clicks.
This inexpensive anti-brush gently reaches into the groove, removing dirt. It is handily sized, measuring from the edge to the label of a 12-inch record or LP.
Clean with just a single swipe. Flip top dust free handle design means it stays fresh when not in use.
Having over one million anti-static carbon fibres means drastic reduction of static build up!
Carefully sourced finest 3µm Grade Japan 12KT700 High Conductivity Carbon Fibre for optimised anti-static capability.
Ergonomic Flip-Top self cleans the bristles to remove dust by flipping away from the disc after use.
Our Brush comes complete with protective packaging.
Because you care of your vinyl and Stylus, we have a broad Range of excellent Vinyl & Stylus Cleaning Kits ensuring your peace of mind! See Additional Pics!
For a deeper understanding of Anti-static devices and how they work, visit the Wikipaedia entry here
More Info
Returns & Delivery
We offer a No-Quibble 30 -Day Return & Refund on all our Products. Please refer to our Return & Refund Policy for full details.
We aim to ship next Working Day by your chosen Postal Service. See our Shipping Policy for further details.
dfushjdfs
Our offers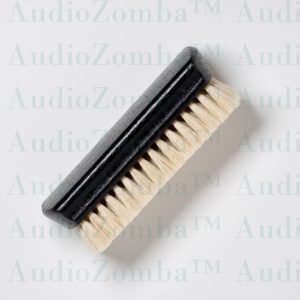 Quick View
Summary:
Luxury natural soft White Goat hair vinyl brush
Effective Dust & Static Removal
Ergonomic Design extends both Record & Stylus Life
Audiophile Quality by AudioZomba
Scroll down for detailed Product Description