Description
Description
Summary:
Comprehensive Record Label Protector Kit saves your precious Vinyl Record Labels!
Economical – can bulk clean at home safely and filter your solution to re-use
Smart Crafted Wooden Presentation Box
Audiophile Quality from AudioZomba
Record Label Protector:
Record Label Protectors are economical because they work well with bulk cleaning agents. Furthermore, you can wash vinyl records in the sink. By submerging the record into the sink using our Record Label Protector, you can also soak very dirty records. This handy device keeps the labels dry during cleaning and provides a handle which secures the records. Tip: Always carry out a final rinse in distilled water to remove calcium deposits.
Because the label is fully protected, home-made cleaners can be used amply, saving £££££££s. For exceptional results try our bulk Shimmer Professional Record Cleaning Solution
Not only is this excellent device capable of protecting the label, it can also allow thorough cleaning without fear of damage.
The AudioZomba Record Label Protector is constructed of clear poly-carbonate and is hence a handy visual Dryness Indicator!
Robust silicon o-rings enable a water-tight seal.
The result is better play-back sound quality, and extended vinyl record life. This, in turn means better stylus life.
Kit Contents:
1× Label Saver Protector Kit
1× Hinged Box
Our Label Protector fits its all Standard 12″ records.
Why not leave it all to the Professionals – See our Postal Record Cleaning Service!
More Info
Returns & Delivery
We offer a No-Quibble 30 -Day Return & Refund on all our Products. Please refer to our Return & Refund Policy for full details.
We aim to ship next Working Day by your chosen Postal Service. See our Shipping Policy for further details.
dfushjdfs
Our offers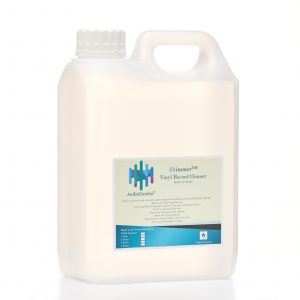 Quick View
Summary
Laboratory Grade Professional Vinyl Record Cleaner in Bulk Sizes suitable for both Manual Cleaning and all Record Cleaning Vacuum Machines
Powerful deep reaching formula removes Fingerprints, ground in dust, tar, Mould & Mildew, Fibres, cigarette smoke residues etc. with ease
1, 1.9, & 5 Litre Sizes available in Tamper-Proof Plastic Jerrys
Ready to Use High Purity Groove-Seeking Formula with Built-in Drying Agent gives exceptional Results
Audiophile Quality by AudioZomba
Scroll down for detailed Product Description