Description
Description
Alcohol-Free Stylus Cleaner & Carbon Brush
Over use of an alcohol based Stylus Cleaner may cause damage. Alcohol based cleaners can damage the stylus. Accordingly, you are advised to use our DustMagnet™ for regular use. It is a solid polymer based Cleaner which is 100% Safe!
Our unique 2 Stage Alcohol-Free cleaning system is a safe alternative. The kit also includes our  '40% More Bristles' Anti-Static Carbon Stylus Brush.
Stage 1 – Alcohol-Free Stylus Cleaner Fluid 
The First Stage features a 15ml Glass Pot with Built-in Applicator Brush.
Our Stylus Cleaner contains a blend of potent plant-based cleaning & degreasing agents. In addition, it includes Ilford Ilfotol. It is a special surfactant which effectively removes stubborn deposits, leaving the stylus clean.
Just apply a few gentle strokes from the rear of the cartridge using the supplied brush. Always squeeze off surplus fluid to the side of the pot before applying. Do not allow fluid to touch other parts of the cartridge.
Extended stylus life means extended vinyl life. Using our 2 Stage kit with the supplied Carbon Brush will improve sound quality. The kit is designed for regular use without damaging your Stylus.
Note: This product will not evaporate. Alcohol based Cleaners, conversely, can be prone to loss over time.
Read all about how to clean your Tonearm Stylus here
Stage 2 – Ultra-Pure Water:
The Second Stage features a 30ml HDPE Pot with Built-in Applicator Brush.
Ultra-Pure Water (UPW) is extremely pure and refined. As a result, it is used in highly specialised applications.
UPW is unstable in its ultra-pure state and thus actively seeks built up dirt. It effectively removes any residues following Stage 1 cleaning. A few gentle reverse strokes will leave your stylus clean and residue free.
Squeeze any surplus fluid against the bottle neck before applying to the stylus. Always seal both containers immediately after use. Always shake well before use.
Carbon Fibre Stylus Brush – Japan 12KT700 Specification
Carefully sourced finest 3µm Grade Japan 12KT700 High Conductivity Carbon Fibre for optimised anti-static capability.
The AudioZomba Carbon Fibre Stylus Brush is a simple but effective device that can help prolong the life of your precious cartridge and vinyl records. By using this brush, you can remove most dirt and deposits from the stylus tip, which stops the cartridge mis-reading the groove of the record wall, causing a sub-par performance.
Unlike any other carbon Fibre brush on the market, the AudioZomba Carbon Fibre Brush has a densely packed square profile which means not only 40% more antistatic dust attracting carbon bristles than our competitors' round headed brushes, but also massively increased stylus surface contact across the whole width of the brush!
In practice it is impossible to have a perfectly clean stylus all the time, as tiny deposits on the playing face of your vinyl will be dragged up and stored on your cartridge's stylus, affecting sound reproduction and the life of your cartridge, and ultimately damaging your vinyl due to increased stylus wear.
Simply move the tip of this brush gently under your cartridge from the back to the front to clean your stylus. The soft carbon fibre bristles will attract and hold onto any dirt or dust, removing them from your stylus. Because of the square profile, you can maximise cleaning efficiency by using all of the brush from left to right!
Regular cartridge stylus and vinyl record maintenance is key to long-term audio performance.
See also (pictured) – Stylus Cleaning Kits,  Vinyl Cleaning Kits & Stylus DustMagnet™ 
More Info
Returns & Delivery
We offer a No-Quibble 30 -Day Return & Refund on all our Products. Please refer to our Return & Refund Policy for full details.
We aim to ship next Working Day by your chosen Postal Service. See our Shipping Policy for further details.
dfushjdfs
Our offers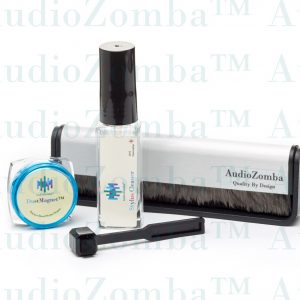 Quick View
Summary:
Comprehensive Laboratory Grade Vinyl Record Cleaning Kits
Choose from 5 kits and Save £££s on the Individual Retail Prices
Best Value Cleaners on the Market
Audiophile Quality from AudioZomba
Scroll down for full Product Description