Description
Description
Summary:
Stylus DustMagnet Polymer
Rechargeable – Lasts for Years
Audiophile Product
Better & Cheaper than the competition
Full 8 Page Instruction Booklet included
DustMagnet™ Polymer Stylus Cleaning Device:
An abused turntable stylus does not look good under a microscope. Also, the sound will be distorted and worse, the dirty needle dragging across your record could damage the vinyl itself.
At AudioZomba, we made sure that you have the number one and top quality option when it comes to cleaning your stylus.
We are proud to present to you the revolutionary new stylus DustMagnet Polymer cleaner developed in our own AudioZomba Research Laboratories in Hertfordshire, England by top vinyl and valve enthusiasts.
DustMagnet™ is a durable, top quality Precision Polymer Stylus cleaning device that features a unique and safe formula. It is rechargeable and can last for several years.
Our very own stylus cleaner minimises the stubborn build up and protects the stylus and record. It is so easy to clean for repeated use. Re-energize it just by simply rinsing it under the tap.
It comes with a full instruction booklet!
To clean your stylus, just drop your stylus onto the polymer, count to three and then lift off. And just like that, your stylus is fresh and clean!
For better build-up mitigation, you can also use our powerful Stylus Cleaning Fluid from our Stylus Care Kit along with this device. 
Revolutionize the way you clean your turntable stylus with DustMagnet™!
Also pictured – We offer a comprehensive range of Vinyl Record Cleaning Kits
More Info
Returns & Delivery
We offer a No-Quibble 30 -Day Return & Refund on all our Products. Please refer to our Return & Refund Policy for full details.
We aim to ship next Working Day by your chosen Postal Service. See our Shipping Policy for further details.
dfushjdfs
Our offers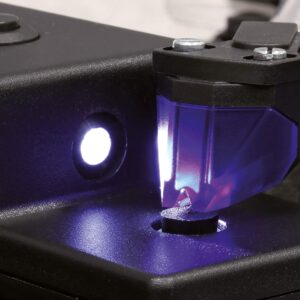 Quick View
Summary:
Precision Low Range Sonic Ultra-Sonic Stylus Cleaning Device
Paired with our Optimised Stylus Cleaning Fluid for Outstanding results every time!
Safe fast and effective cleaning extends Stylus & Vinyl Shelf life
Full Illustrated Step by Step Instructions Included
2 Year Product Guarantee. Requires 2 x AAA Batteries
Scroll Down for Detailed Product Description