Description
Description
Ultra-Sonic Stylus Cleaner Description & Details:
Summary:
Precision Low Range Ultra-Sonic Stylus Cleaner
Paired with our Optimised Stylus Cleaning Flux for Outstanding results every time!
Safe fast and effective cleaning extends Stylus & Vinyl Shelf life
Full Illustrated Step by Step Instructions Included
2 Year Product Guarantee. Requires 2 x AAA Batteries
AudioZomba Ultra-Sonic Stylus Cleaner Description
The AudioZomba DustMagnet™ is a great 'use every time' device, to keep dirt and dust to a minimum, but occasionally the stylus tip can suffer from built up deposits. That is the time to use the AudioZomba Ultra-Sonic Stylus Cleaner! It is a Precision Instrument designed to safely and effectively remove the most stubborn deposits from your Tonearm stylus in five easy steps.
The Battery operated Cleaning device makes light work of stylus cleaning using our specially optimised Stylus Cleaning Fluid.
This highly sophisticated battery-operated device is cleverly designed to clean your stylus 'in-situ' in a matter of seconds.
The oscillating pad dislodges even the hardest encrusted dirt with ease leaving your stylus really clean and extending the life of both the stylus and your vinyl records.
Records will sound clear and vibrant as they are intended.
1 Year Product Guarantee
Product Description
The AudioZomba™ Ultra-Sonic stylus cleaner is a vibratory needle cleaner which transmits a high frequency through fluid to remove dirt from the stylus tip for pristine audio playback.
Vibratory stylus cleaners date back to the 1970s. AudioZomba™ has revived this technology with their Ultra-Sonic Electronic Stylus Cleaner. It uses high frequency, transmitted by a liquid that peels the soils off the needle.
These devices disappeared from the market with the rise of CDs, and were a higher frequency which could impact the integrity of the stylus/cantilever.  AudioZomba's newly developed product is a lower range frequency and is an essential asset for vinyl enthusiasts everywhere with safe outstanding results.
The Cleaning Process
The scanning stylus is the primary component during playback with an aim to follow the groove precisely in the micrometre range. Pickup manufacturers make great efforts to achieve this accuracy. However if the stylus is contaminated, it cannot exactly follow the deflection no matter how refined the stylus profile is. It will react too early or too late creating distortions.
Even supposedly clean records are covered with dust, partly visible and partly invisible in the groove. It contains particles of silicates, polymers and organic substances. These stick to the stylus due to the high temperature during the scanning process.
The Technology
The principle is similar to an ultrasonic dental cleaner or an ultrasonic bath for spectacle lenses. A strong high-frequency vibration ensures cleaning of the surfaces. However in some substances, damage is caused by this treatment as well as the use of aggressive liquid cleaners. The AudioZomba Vibration Cleaner works with a lower targeted frequency for safe effective cleaning.
The circuit and mechanics are designed so a 3D vibration acts on the stylus to ensure any dirt particles are removed. The frequency is precisely matched preventing damage to the adhesive or suspension with optimum cleaning results. The deflections lie far from the values of the actual scanning so the movement of the needle corresponds only to a fraction of the load on the playback process.
AudioZomba Sonic-optimised Stylus Flux Fluid
A liquid is necessary to transfer vibration from device to stylus and this has an additional, gentle cleaning effect. After use, it volatilizes without residue. AudioZomba Stylus Fluid Flux is applied to a specially developed pad of the finest capillary-effect PE fibres. When combined these transmit the vibration while simultaneously absorbing dirt. Use occasionally for stubborn build up.
The Result!
The cleaning process lasts only 5 seconds but gives optimal results. For very stubborn deposits it can be safely repeated where deemed necessary. The capability of the pickup system is improved and the life of the stylus is increased by less abrasion. Scanning noise is significantly reduced with both distortions and minor noise largely being removed. Unpleasant peaks are gone and the range of frequencies seems to be extended, especially in the bass and treble range. Playback is much more dynamic and enjoyable.
The Device comes complete with 10ml AudioZomba™ Dispensing bottle of our Sonic-Optimised Stylus Fluid
Recent 5 Star Testimonial Published in our Testimonial Section:
'Wow. I've been brushing my AT Microline stylus religiously after every album – and occasionally dabbing it on a gel pad for the more stubborn gunk. Having said that, I thought I would give this ultrasonic cleaner a go – and after spending a couple of minutes to make sure I got it right, gave my stylus a clean. The amount of treble definition that I suddenly heard on the next album I played was frankly a revelation, I guess you don't know what you've lost until you get it back, right? Super easy to use, this is highly recommended!
James Hendry'
(Purchased 12-June-2021)
More Info
Returns & Delivery
We offer a No-Quibble 30 -Day Return & Refund on all our Products. Please refer to our Return & Refund Policy for full details.
We aim to ship next Working Day by your chosen Postal Service. See our Shipping Policy for further details.
dfushjdfs
Our offers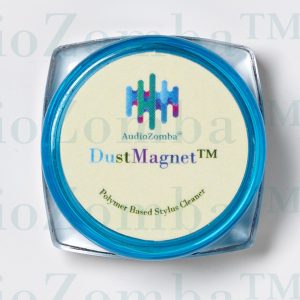 Quick View
Summary
Stylus DustMagnet Polymer
Rechargeable - Lasts for Years
Audiophile Product
Better & Cheaper than the competition
Full 8 Page Instruction Booklet included
Scroll down for full Product Description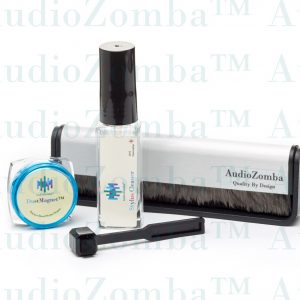 Quick View
Summary:
Comprehensive Laboratory Grade Vinyl Record Cleaning Kits
Choose from 5 kits and Save £££s on the Individual Retail Prices
Best Value Cleaners on the Market
Audiophile Quality from AudioZomba
Scroll down for full Product Description