6E2 Chinese Military Magic Eye Vacuum Tube:
We offer replacement Volume Indicator Tubes for Chinese Amplifiers such as Fatman. These are the valves with a strip that lights up when music is playing and therefore act as a volume meter. Our NOS Chinese Vacuum Tubes are fully tested in the UK, for your peace of mind. 30 Day Guarantee.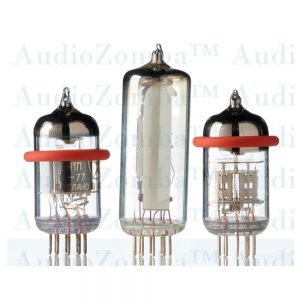 Quick View
Premium Vacuum Tubes – Complete 3 Set long life NOS USSR military spec 6N1P-ev (1), 6N2P-ev (1) & 6E2 (1) direct drop in Upgrade for stock Chinese 6N1 amplifiers
Free BS310 Standard heat resistant silicone anti-vibration dampers.
Our 6N1/6N2 valves are compatible with our 20mm Anti-Microphony Damper Rings
Individual Upgrade replacement tubes also available - see Main Description.
*Always check for the correct vacuum tube in your Manufacturer's User Manual.
Fitting the wrong tubes can be dangerous, can damage your amplifier and can invalidate your 30-Day Warranty