Description
Description
This Anti-Static Best Vinyl Brush recommendation is a tool that removes dust and dirt from vinyl records. In fact, a basic care regime may be the best system upgrade you will ever make!
The DustGoat™ is a luxurious soft Goat hair cleaning tool – the Best Vinyl Brush for your records. White Goat's hair possesses natural anti-static properties. Because it has static draining Goat's hairs, it discharges static and thus acts as an effective anti-static brush!
A smart beech wood stock houses a generous three rows of soft and deep pile static draining white Goat's hairs.
Advance the life of your vinyl and diamond stylus. Our dry brush removes loose dust and static effectively. Background pops and crackles are thus drastically reduced.
See also:
More Info
Returns & Delivery
We offer a No-Quibble 30 -Day Return & Refund on all our Products. Please refer to our Return & Refund Policy for full details.
We aim to ship next Working Day by your chosen Postal Service. See our Shipping Policy for further details.
dfushjdfs
Our offers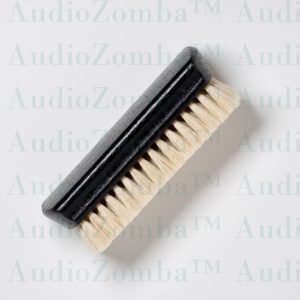 Quick View
Summary:
Luxury natural soft White Goat hair vinyl brush
Effective Dust & Static Removal
Ergonomic Design extends both Record & Stylus Life
Audiophile Quality by AudioZomba
Scroll down for detailed Product Description