Description
Description
Summary:
Professional Record Cleaning Mat
Soft Foam Rubber Anti-Static Locate & Grip Design
Safe & Effective Cleaning plus Folds away for convenient storage
Use with AudioZomba Shimmer 250ml Professional Vinyl Cleaning Fluid for optimal results
Audiophile Essential Kit
PROFESSIONAL VINYL RECORD CLEANING WORK MAT – ANTI-STATIC ESSENTIAL CLEANING KIT Description
PROFESSIONAL RECORD CLEANING MAT
*Record & Cleaning kit shown is NOT included – for illustrative purposes only. A Professional Vinyl Record Cleaning Work Mat that Securely holds your disc in place while you clean. An invaluable aid especially for owners of large vinyl record collections.
Here at AudioZomba, we operate a Professional Vinyl Record Cleaning Service and without these mats life would be difficult. When cleaning vinyl it must be laid on a soft flat surface and can easily become contaminated or damaged by the surface chosen.
The AudioZomba Vinyl Cleaning Work Mat solves this problem by employing a firm anti-Static foam rubber material that locates and grips the vinyl perfectly in addition to being wipeable keeping it immaculate at all times. 
Tip: We recommend our Shimmer Professional Vinyl Record Cleaning Fluid. Before cleaning, spray the mat using our 250ml Vaporiser. This damps down any fine dust particles and also reduces static build up.
To purchase our Industry leading Shimmer, just browse our shop.
'Keeping the surface of your vinyl free from stray fingers or other unwanted 'debris' when cleaning has always been a bit hit and miss. This simple mat clicks together like a 4 piece jigsaw and holds your prized vinyl securely on a nice soft surface whilst you clean. When finished, disassemble and store it back in its box. Good value and an excellent idea well executed'.
Gary, Customer Review
More Info
Returns & Delivery
We offer a No-Quibble 30 -Day Return & Refund on all our Products. Please refer to our Return & Refund Policy for full details.
We aim to ship next Working Day by your chosen Postal Service. See our Shipping Policy for further details.
dfushjdfs
Our offers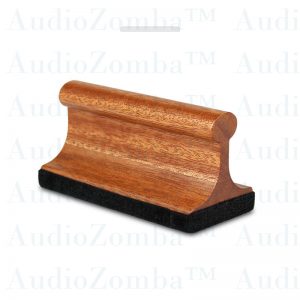 Quick View
Summary:
Beautifully Crafted African Sapele Wood Cleaning & Finishing Brush with ergonomic grip
Replaceable Pads for Long Life & Durability
Deep Cleaning action - they really penetrate the Grooves
Use wet or Dry - We recommend using a pair for Professional Results
Audiophile Quality from AudioZomba
Scroll down for Detailed Product Description