A range of NOS USSR tested 6N1 Tube Equivalent 6N1P 6N1P-EV 6Н1П-EB 6Н1П vacuum tube valve upgrades for Typically Fatman, Nobsound, Schitt etc. & all other Chinese 6N1 amplifiers.
Our 6N1P-EV (6Н1П-EB) Voskhod Rockets are a ruggedized version of the 6N1 Tube Equivalent 6N1P valve developed for the Russian Military with 5000 hrs life and nickel plated pins
Details:
Name: 6N1P-EV (6Н1П-EB) Voskhod Rockets
Analogue: 6N1, ~6BQ7A
Manufacturer: Voskhod factory, USSR
Condition: NOS (new from old stock), never used
Date of manufacture: 1970's/1980s
~ = near equivalent with similar electrical characteristics
Also Available until Stocks Last – are Special Purchase rare Vintage 6N1P-V Reflektor Plant c.1967 exceptional sound quality. |Refer to 'Elite' Options
Showing 1–12 of 14 results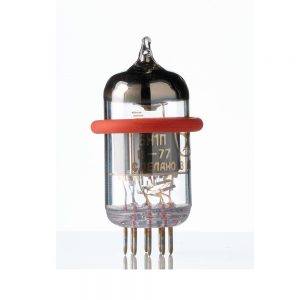 Quick View
Amplifier Tubes: 6N1 Tube Equivalent 6N1P 6N1P-ev  6N1P_V -
Choose your grade from Standard 6N1P to Elite Options! Available in matched groupings. Fully Bench tested - No leaks or shorts guaranteed.
*These tubes are compatible with our 20mm
Silicone Anti-Microphony Dampers
*Always check for the correct vacuum tube in your Manufacturer's User Manual. Fitting the wrong tubes can be dangerous, can damage your amplifier and can invalidate your 30-Day Warranty
Showing 1–12 of 14 results