We sell New Old Stock (NOS) 6P15 & 6P6 Vacuum Tubes for the KINGSOUND M-20 Tube Amplifier.
We stock carefully selected Vintage USSR 6P15P-ev & 6P6P Chinese Shuguang Valves c.1975. You can therefore expect exceptional build quality and hence longer life.
Buy singles, matched multiples and even full Matched Quad Vacuum Tube kits. In other words, we have everything you need to transform your Kingsound Amplifier.
Because all our valves are fully bench tested here in the UK, it means you have complete peace of mind.
Simply Choose according to your requirements!
Showing the single result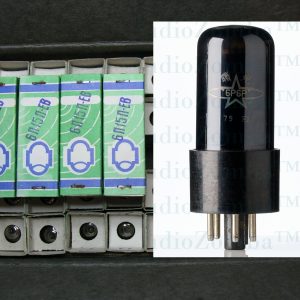 Quick View
Set of 5 Vacuum Tubes - Complete Set of 6P15P-ev (4) long life NOS Russian Military Matched Quad & Chinese military spec 6P6P (1) -  direct drop in Upgrade for stock Chinese 6P15P-ev / 6P6P amplifiers such as the Kingsound M20. *This Kit does not include the 12AX7 Pre-amplifier section. Power section only.
Individual Upgrade replacement tubes also available -   6P15P-ev      6P6P
*Always check for the correct vacuum tube in your Manufacturer's User Manual. For the reason that fitting the wrong tubes can be dangerous, can damage your amplifier and can invalidate your 30-Day Warranty
Showing the single result