We sell New Old Stock (NOS) Shanling Vacuum Tubes for the Shanling CD Player or Valve Amplifier Range including the CD-T100, CD-T100C, CD-T1000, CD-T200, CD-T200C, CD-T2000, CD-T80, MC-30, MC-3000, STP-80 and more!
Our Graded Russian Military Vacuum Tubes are the robust Vintage NOS 6N3P-e. They are the original and superior USSR vacuum tubes that the cheap stock mass-market Chinese 6N3 is based on. Because the suffix  -e denotes a ruggedized version, you may expect better sound quality exceptional build quality and hence longer life.
Direct Plug-in and go replacements, you can buy singles, matched multiples or complete Vacuum Tube kits geared to your model. In other words, we have everything you need to transform your Shanling CD Player & Amplifier.
Because all our Shanling Vacuum Valves are fully bench tested here in the UK it means you have complete peace of mind.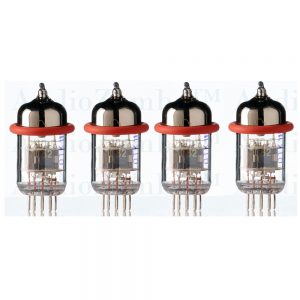 Quick View
We offer a matched Quad 6N3 (4) of Premium NOS USSR Military Spec 6N3P-e.
Free BS310 Standard heat resistant silicone anti-vibration dampers.
These tubes are compatible with our 20mm Anti-Microphony Damper Rings
Individual Upgrade replacement tubes also available - see Main Description.
**Always check for the correct vacuum tube in your Manufacturer's User Manual.
Fitting the wrong tubes can be dangerous, can damage your amplifier and can invalidate your 30-Day Warranty